---
The American Petroleum Institute is enhancing industry resources to seize America's energy moment and continue to deliver reliable affordable fuels to help consumers power their daily lives.
The wave of new industry hires includes key additions to API's Colorado Petroleum Council (CPC), the Alabama Petroleum Council (APC), Global Industry Services (GIS), and the Market Development department. Colorado and Alabama are important energy states that have helped make the US the world's number one producer of natural gas and oil. Industry supports more than 300 000 jobs in both Colorado and Alabama and contributes billions to each state's economy. API's GIS division is the gold standard for industry's best certifications, standards, training, and safety programmes for onshore, offshore and refinery operations. API's Market Development department continues to work with industry, government, and customer stakeholders to promote the benefits of the nation's abundant and clean natural gas resources.
"Today consumers are enjoying reliable, affordable American made energy," said API President and CEO Mike Sommers. "In a short period of time, the US has transformed itself from a nation of energy dependence and scarcity to one of energy security and abundance and we're focused on bolstering this success story.
"The new additions to this organisation's exceptionally talented team will enhance our efforts moving forward as the natural gas and oil industry continues to deliver tremendous environmental benefits, while enhancing the lives and opportunities for Americans and people around the world."
State Petroleum Council division has hired:
Jonathan Barganier, Executive Director Alabama Petroleum Council. Jonathan served two governors in his home state of Alabama. First as Chief of Staff for Governor Robert Bentley and then as Deputy Chief of Staff for current Governor Kay Ivey prior to joining API. Christopher McGowne, Associate Director Colorado Petroleum Council. Christopher goes to API with an energy background having worked for the Colorado Oil and Gas Association as the association's Community Outreach Coordinator. Prior to joining API Christopher served a law clerk for the Poulson, Odell & Peterson firm in Colorado.
Global Industry Services division has hired:
Gao Jie, Chief Representative, China. Gao was promoted to the top position in API's Beijing office after nearly ten years at API. During her tenure, she oversaw sales for API's Global Industry Services in China and other countries in Northeast Asia, and actively developed relationships with national and international oil companies.
Market Development division has hired:
Brian George, Senior Policy Advisor Market Development. Brian is an energy markets expert will extensive knowledge of the regulatory landscape. He comes to API from the Federal Energy Regulatory Commission (FERC) where he served as a technical advisor and economist.
The new hires come as API welcomed new Chief Operating Officer Amanda Eversole earlier this month and Director of Communications Ben Marter who joined the organisation in July.
Read the article online at: https://www.worldpipelines.com/business-news/23082018/new-wave-of-hires-for-api/
You might also like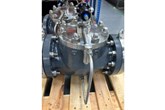 Oxford Flow expands its product range and grows market potential with new high- and low-pressure pilots.