---
PRCI has announced that Mark Piazza has been elected Chair of the Research Steering Committee (RSC) by its Executive Assembly. Piazza succeeds Francois Rongere, Manager of Gas Operations R&D and Innovation at Pacific Gas & Electric, who will remain active on the RSC in the role of Immediate Past Chair. In addition, the RSC elected David Chittick, Director of Pipeline Integrity at TransCanada, to serve as Vice Chair.
Piazza is the Manager of Pipeline Compliance and R&D for Colonial Pipeline Company, and formerly worked as the Manager of their Integrity Management Programme. Prior to joining Colonial, he worked for seven years as the Director of Pipeline Programmes at PRCI and led the development of a several comprehensive research programmes. Piazza holds a Bachelor of Science degree in Geology and is a licensed professional geologist.
The RSC is responsible for establishing research objectives and priorities for PRCI and driving technology development to improve pipeline safety and performance. It is comprised of elected subject matter experts from member companies and provides overall guidance and review of PRCI's research efforts. The RSC advises the PRCI technical committees to ensure there is strategic alignment across the whole research portfolio and with the pipeline industry at large.
"A true champion of PRCI research, Mark is the ideal candidate to be leading this key PRCI committee. He has been instrumental in the development and implementation of several significant research programmes at PRCI, as well as applying PRCI research to Colonial's internal programmes. He is a constant advocate for PRCI, promoting its value to the pipeline industry. Mark's first call-to-action as the newly elected chair of the RSC will be leading the organisation as it transitions to a new research funding model that addresses strategic research priorities for PRCI and the industry," stated PRCI President Cliff Johnson. "I would also like to thank Francois Rongere and recognise his leadership as the inaugural Chair of the committee as he was integral to establishing its foundation in PRCI."
About Pipeline Research Council International
PRCI is a non-profit research organisation that is comprised of energy pipeline operating companies located in Asia, Australia, Canada, Europe, Middle East, South America and the US. Augmenting the pipeline membership are associate members drawn from companies in Australia, Canada, China, Europe, Japan, Mexico and the US that serve the industry as pipe and equipment manufacturers, service providers, and vendors.
Read the article online at: https://www.worldpipelines.com/business-news/23042019/prci-elects-new-research-steering-committee-chair/
You might also like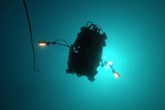 Voyis and Deep Trekker, have joined forces to achieve the successful fusion of Voyis' Discovery Camera with Deep Trekker's REVOLUTION ROV.