---
Today, Statoil is presenting its Annual Report, Form 20-F for the year ended 2017, and its sustainability report.
In 2017, Statoil delivered record high equity production of 2.080 million boe/d and an underlying production growth of more than 6%, driven by continued strong operational performance and new fields starting production.
This has, combined with further efficiency improvements, contributed to US$3.1 billion in free cash flow for the full year and strengthened Statoil's financial position. The reserve replacement ratio (RRR) was 150% in 2017, due to sanctioning of new projects and positive reserve revisions on existing fields.
"In 2017, we presented our strategy: always safe, high value, low carbon, and we set clear ambitions for the future. We have delivered above and beyond our ambitious targets, and Statoil is now a stronger, more resilient and more competitive company," writes President and CEO of Statoil ASA, Eldar Sætre in a letter to fellow shareholders.
"We must always be prepared for volatility in our markets. Our improvement work started when prices were still high, and we have used the downturn to reset the company," Sætre writes.
2017 saw increased prices and increased margins for the industry. Statoil's average realised liquids price was US$49.1 /bbl for the year, with oil prices increasing towards the end of the year.
Organic capex for 2017 was US$9.4 billion, a US$1.6 billion reduction from the initial guiding, achieved through continued efficiency improvements and strong project deliveries. Statoil completed 28 exploration wells in 2017.
For the full year, the serious incident frequency came in at 0.6, a positive development from the previous year. "We will use this as inspiration and continue our efforts. The 'I am safety' initiative, launched across the company is an important part of these efforts," Sætre says.
Embracing the energy transition
The Annual Sustainability Report offers an overview of how Statoil follows up its ambitious sustainability agenda and performance. Sustainability is embedded in Statoil's strategy, and the company is taking actions to develop the business to support the UN sustainability goals and the Paris agreement.
In 2017, Statoil launched a new climate roadmap outlining aims to reduce the carbon intensity of its upstream oil and gas portfolio to 8 kg CO2/boe by 2030, achieve annual CO2 emission reductions of 3 million t by 2030 and build an industrial position in profitable new energy of up to 15 - 20% of capex by 2030. The company will also invest around 25% of research funds into new energy solutions and energy efficiency by 2020.
"In Statoil we believe the winners in the energy transition will be the producers which can deliver at low cost and with low carbon emissions. We also believe there are attractive business opportunities in the transition to a low-carbon economy," writes Sætre.
Read the article online at: https://www.worldpipelines.com/business-news/23032018/statoil-presents-its-annual-report-and-sustainability-report/
You might also like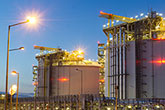 Prices pick up slightly but continue to remain deflated worldwide; prices did not respond as they did in 2022 despite disruption of gas pipeline supplies in Europe by multiple maintenance works.