---
The global gas sensor market size is expected to reach US$2.8 billion by 2023, rising at a market growth of 6.9% CAGR during the forecast period.
The market report segments the market into technology sectors, including infrared, electrochemical, semiconductor, solid state/MOS, PID, catalytic, and others.
For end user, the gas sensor market segments are: industrial, building automation and domestic appliances, petrochemical, environmental, medical, automotive, and others.
For regions, the gas sensor market segments are: North America, Europe, Asia Pacific, and Latin America, Middle East and Africa.
The report covers the competition analysis of key stake holders of the global gas sensor market.
Key topics covered in the report are:
Market scope and methodology.
Market overview.
Global gas sensor market.
Global gas sensor market by end user.
Global gas sensor market by region.
Company profiles.
Companes profiled include:
Siemens AG.
Robert Bosch GmbH.
NGK Insulators Ltd.
ABB Ltd.
GfG Europe Ltd.
Honeywell International Inc. (City Technology Ltd).
Dragerwerk AG & Co. KGaA.
Dynament Ltd.
Tokuyama Corporation (Figaro Engineering Inc.).
Nemoto & Co. Ltd.
For more information about this report click here.
Read the article online at: https://www.worldpipelines.com/business-news/23032018/global-gas-sensor-market-report/
You might also like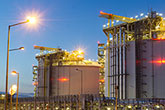 Prices pick up slightly but continue to remain deflated worldwide; prices did not respond as they did in 2022 despite disruption of gas pipeline supplies in Europe by multiple maintenance works.