---
Transneft Far East, transporting oil through phase II of the Eastern Siberia – Pacific Ocean oil trunk pipeline (ESPO-2), has completed comprehensive performance testing of the units for injection of drag reducing agents (DRA) at three oil pumping stations (PS) of the pipeline.
The use of drag reducing agents enables the Company to increase the throughput capacity of the oil trunk pipeline. Starting 2016, Transneft Far East has been injecting Russia-produced agents using UPN-100/10 units made by Transneftemash Factory at Velikiye Luki.
The work in equipping those refineries with DRA injecting units was conducted in accordance with the Development Programme of Transneft for the purpose of increasing the amount of oil transported to refineries of the Russian Far East and the markets of Asia-Pacific countries.
The comprehensive testing, which requires uninterrupted operation of all systems and assemblies of the units, was carried out for 72 hours at the sites of the pig traps at PSs No. 27, 32 and 34. The testing was carried out without any deviations and was successfully completed at each of the three stations. The DRAs will be used a PSs No. 21, 24, 27, 30, 32 and 34.
In 2020, the use of DRA at the ESPO-2 (together with improving the efficiency by replacing the rotors of 36 main pump units at the existing PS and commissioning of new stations No. 23, 26 and 32) will increase the amount of raw hydrocarbons delivery to 50 million tpy.
For reference: The length of the ESPO-2 is 2047 km, the pipeline route runs across the territory of four Far East regions: Khabarovsk Territory, Primorie Territory, Jewish Autonomous Region and Amur Region.
Read the article online at: https://www.worldpipelines.com/business-news/22072019/testing-completed-for-dra-injection-in-espo-2-pipeline/
You might also like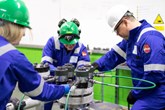 3t EnerMech named regional winner at top engineering awards for the second year in a row.