Business news - 22 May 2020
The Intercontinental Exchange is registering record levels of open interest across its North American, European and Asian gas benchmarks.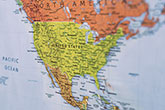 US and Canadian oil producers are expected to halt 1.75 million bpd and 500 000 bpd of production, respectively.
Corinth declares its support of the Paris agreement and aims to become carbon neutral within 2020.