---
Vallourec, premium tubular solutions, yesterday announced its results for full year 2017. The consolidated financial statements were presented by Vallourec's Management Board to its Supervisory Board on 20 February 2018.
The report states an improved full year 2017 performance:
EBITDA at breakeven - significantly higher activity level; cost savings generated by the Transformation Plan.
Net debt of €1 542 million as at 31 December 2017.
Liquidity strengthened: €800 million refinancing through bond and convertible bond issuance.
Commenting on these results, Philippe Crouzet, Chairman of the Management Board, said:
"In 2017, we benefited from the first tangible signs of a recovery in the oil and gas industry following three years of an unprecedented downturn. In North America, drilling activity recovered at a stronger pace than initially forecasted, allowing us to boost deliveries and prices. Tender activity in international oil and gas markets began to resume at a gradual pace. An improved macroeconomic context in Europe and Brazil supported our Industry & Other activities.
"Thanks to the teams' commitment and hard work, we continued to implement a meaningful transformation of the Group's industrial footprint. We expanded new competitive production routes, developed a new organisation that bring us closer to our customers and generated significant cost savings. Furthermore, we maintained a continuous focus on cash, namely by efficiently managing the working capital requirement and by monetising non-core assets.
"As a result of these efforts, we delivered a financial performance that exceeded initial expectations and registered an EBITDA at breakeven, a significant achievement over the previous year.
"We also strengthened and diversified our liquidity position by raising €800 million on the bond and convertible bond markets.
"Looking towards 2018, we expect to benefit from a favourable activity level in the US and stable oil and gas activity in Brazil. Meanwhile, the timing and magnitude of the international oil and gas market rebound is still uncertain, but tender activity is increasing, which should result in higher bookings. Finally, the macroeconomic environment has recently seen an unfavourable evolution in currencies. We remain focused on the implementation of our Transformation Plan which will continue to generate significant savings, and contribute to the continuous improvement of our results."
2017 consolidated results analysis
In 2017, EBITDA stood at €2 million, representing an improvement of €221 million year-on-year, with:
Consolidated revenue up 26.5%.
An industrial margin of €453 million, up €215 million reflecting (i) the increase in revenue, (ii) the positive impact from the Transformation Plan initiatives along with (iii) a net reversal in provisions (€81 million).
Sales, general and administrative costs (SG&A) of €440 million, down 1.8%, cost savings more than offsetting the negative scope and inflation impacts. As a result, SG&A represented 11.7% of revenue compared to 15.1% in 2016.
Total gross savings amounted to €164 million, highlighting the successful implementation of the Transformation Plan.
The financial result was negative at -€174 million vs -€131 million in 2016, resulting mainly from higher interest charges, change in scope, and change in fair value of NSSMC shares.
Income tax was a gain of €100 million in 2017, mainly related to the recognition of deferred tax assets in Brazil and the US, compared to a gain of €80 million in 2016.
The share attributable to non-controlling interests amounted to -€23 million in 2017, compared to -€50 million in 2016.
This resulted in a net loss, Group share of €537 million in 2017, compared to a loss of €758 million in 2016.
Vallourec will propose that no dividend be paid for fiscal year 2017. This is subject to the approval of the Shareholders' Meeting to be held on 25 May 2018.
Market trends entering 2018 can be characterised as follows:
In the US, assuming no significant change in WTI price, Vallourec anticipates the average rig count to moderately increase in 2018 while OCTG consumption per rig should continue to rise.
In Brazil, drilling activity is expected to remain stable, and the target is to renew the frame agreement with Petrobras in the course of H1 2018.
In the rest of the world, an increasing tender activity for oil and gas projects should result in higher bookings, with positive impacts on deliveries to materialise mostly as from 2019.
Power Generation revenue is expected to be impacted by a diminishing number of conventional power plant projects, particularly in China and Korea.
Improved momentum in the Industry markets in Europe and Brazil should be confirmed, although these markets remain very competitive.
The business environment is also experiencing an unusually high and unfavorable volatility in some consumable prices (e.g. electrodes) and in currencies, which, if maintained at current levels, would have a negative effect on company results. Meanwhile, we continue to steadily execute our Transformation Plan, which will continue to generate significant savings, and to reinforce Vallourec's competitiveness.
Read the article online at: https://www.worldpipelines.com/business-news/22022018/vallourec-reports-full-year-2017-results/
You might also like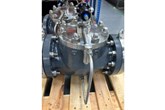 Oxford Flow expands its product range and grows market potential with new high- and low-pressure pilots.