---
ResearchAndMarkets.com's new report predicts the global oil storage market to grow with a CAGR of 4.2% over the period of 2017 - 2023.
The report on oil storage market is a comprehensive study and presentation of drivers, restraints, opportunities, demand factors, market size, forecasts, and trends in the global oil storage market over the period of 2015 - 2023. Moreover, the report is collective presentation of primary and secondary research findings.
Porter's five forces model in the report provides insights into the competitive rivalry, supplier and buyer positions in the market and opportunities for the new entrants in the global oil storage market over the period of 2015 - 2023. Further, the Growth Matrix given in the report brings an insight on the investment areas that existing or new market players can consider.
Segments are covered by: Materials (Steel, carbon steel and fibreglass reinforced plastic (FRP). Types include crude oil, gasoline, aviation fuel, naphtha, diesel, kerosene and LPG.
Companies profiled include:
Sunoco Logistics.
Containment Solutions.
Belco Manufacturing Company.
L.F. Manufacturing.
Columbian Steel Tank.
Zcl Composites.
Poly Processing.
Oiltanking Gmbh.
Red Ewald, Inc.
Synalloy Corporation.
Read the article online at: https://www.worldpipelines.com/business-news/22012018/new-report-global-oil-storage-forecast/
You might also like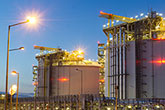 Prices pick up slightly but continue to remain deflated worldwide; prices did not respond as they did in 2022 despite disruption of gas pipeline supplies in Europe by multiple maintenance works.