---
Pacific Gas and Electric Company (PG&E) has submitted a comprehensive proposal as part of its 2019 - 2021 Gas Transmission and Storage (GT&S) rate request to state regulators. The request outlines how PG&E will continue to achieve increased levels of gas safety by strengthening and modernising its approximately 6600 miles of gas transmission pipelines and storage facilities, which serve more than 4.4 million customers across the company's 70 000 square mile service area. GT&S rate requests and proposed work plans are typically submitted once every three or four years to the California Public Utilities Commission (CPUC).
This proposal focuses on using innovative gas safety technology, such as advanced robotics to inspect the interior of pipelines to detect and repair flaws. It also improves pipeline system safety in anticipation of natural disasters like earthquakes. The accompanying plan provides the needed safety funding to meet anticipated, new and more rigorous state requirements for gas storage facilities.
"We are focused on making the right investments to achieve greater gas safety and reliability today while working hard to achieve customer savings in the future. This rate request prioritises infrastructure and technology investments, such as automated valves and advanced inline inspection robotic tools that will continue to enhance our ability to provide safe and reliable service. As we continue to prioritise safety, we are also embracing our responsibility to continually improve our work and minimise impacts to customer bills," said Nick Stavropoulos, President and Chief Operating Officer of PG&E.
By prioritising the right infrastructure investments now – such as adding to the more than 260 automated valves on its transmission system; strength testing and inline inspecting pipelines; and improving and streamlining gas operations – PG&E will improve gas safety and reliability. In addition, PG&E's proposal to close two smaller gas storage fields to reflect customer demand and changing regulations will help save hundreds of millions of dollars for customers over 20 years.
Among the critical safety investments proposed over the three year period are:
Deploying 80 more automated and remotely operated valves that quickly turn off gas in case of emergencies or natural disasters like earthquakes or wildfires.
Upgrading over 1100 more miles of pipelines to accommodate advanced robotic devices called 'pigs' that are used to inspect the insides of pipelines, and help assess and improve overall pipeline condition.
Performing over 2100 miles of in-the-pipe, pigging inspections.
Testing 240 miles of transmission pipelines to verify safe operating pressures.
Improving safety measures at all three PG&E gas storage facilities to reflect newly anticipated and more rigorous state laws and regulations, and initiating the sale or closure of two of these facilities, reducing the long-term costs to customers without any impact to the safe and reliable delivery of gas service.
Continuing to drive public awareness of damage prevention through the 811 programme with public safety partners like local fire departments and contractors.
For a typical residential customer, the investments PG&E proposes for 2019 would cost US$1.11 more per month, or about four cents a day. A typical small business customer would see an average monthly gas bill increase of US$6.65, or about 21 cents a day. This will fund critical safety investments and upgrades across approximately 6600 miles of gas transmission pipelines. For business customers, increases will depend on the type of service they receive.
"This infrastructure investment plan supports thousands of skilled, well-paying jobs. When this plan is executed by highly trained workers across Northern and Central California, it will enhance safety and improve reliability for PG&E's customers. This plan is a win for both California's economy and clean energy future," said Tom Dalzell, Business Manager of IBEW Local 1245, which represents most of PG&E's gas workers.
Critical investments to PG&E's storage facilities to enhance safety and affordability
One area of increased investment outlined in this request and plan is the work needed to upgrade and increase inspection frequency at PG&E's largest natural gas storage facility and begin the process of selling or closing two of these smaller facilities. This approach to PG&E's gas storage business is responsive to the new regulations and shifting market conditions all while providing customers with substantial savings in the long-term without impacting safe or reliable service.
PG&E is required by the CPUC to submit its GT&S rate request before the end of 2017. PG&E is requesting a total of US$1.59 billion in revenues for its proposed critical safety investments in 2019, US$1.725 billion in 2020 and US$1.905 billion in 2021. The company submitted its request to the CPUC for review on November 17. All rate requests are subject to review and approval by the CPUC. PG&E's customers and members of the public are encouraged to provide feedback on this request through the regulatory review process.
Read the article online at: https://www.worldpipelines.com/business-news/21112017/pge-to-strengthen-and-modernise-its-pipelines-and-storage-facilities/
You might also like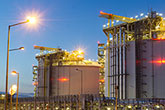 Prices pick up slightly but continue to remain deflated worldwide; prices did not respond as they did in 2022 despite disruption of gas pipeline supplies in Europe by multiple maintenance works.