Business news - 21 September 2020
François Poirier will succeed Mr. Girling as President and Chief Executive Officer and will join the board 1 January 2021.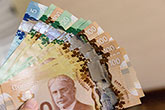 The agreement will see an investment from Trans Mountain towards enhancing the local trail network in the Fraser Heights area of Surrey.
Jeff Mueller has been promoted to Vice President of HDD operations, and Matt Smith has been promoted to General Manager of Contracts and Business Administration for HDD operations.