---
This week Schneider Electric Software hosted its midstream industry user conference, Innovation Summit: Digital Pipelines 2017. The event focused on innovation and excellence in pipeline operations in the areas of safety, efficiency and connectivity.
At this event, Schneider Electric Software made a number of significant product release announcements that deliver enhanced functionality and usability to users of Schneider Electric's pipeline management software.
Integrity Operation
Integrity Operation 2.0 brings together significant enhancements that support pipelines in their continuous journey toward operational excellence for the safe movement of hydrocarbons.
Key to this release is the introduction of SimCentral as the pipeline configuration tool for Integrity Operation. This addition will dramatically change the way that pipeline operators can more easily build pipeline models, a critical step towards operational excellence when it comes to the maintenance of user systems as they continue to grow and evolve.
Smart Client Application (SCA)
SCA 2017 is the Human Machine Interface (HMI) for Schneider Electric's flagship Enterprise SCADA, OASyS DNA. The SCA 2017 release, along with SCA 2017 R2 scheduled for later this year, delivers Windows 10 support, reduced total cost of display ownership, and improved control room management.
The SCA 2017 R2 release features Control Room Management (CRM) Objects which offer native support for the latest human factors engineering standards and industry best practices. With CRM Objects, users can expect reduced display-building complexity, fewer display-building process steps, improved display performance, improved controller situational awareness and reduce controller fatigue.
OASyS DNA
At its core, OASyS DNA is focused on delivering safe, reliable and distributable enterprise SCADA. It is the most trusted enterprise SCADA for pipeline and gas distribution operations in the world. This latest OASyS DNA release continues Schneider Electric's commitment towards improved CRM functionality with enhanced alarm handling and suppression, as well as a host of additional enhancements geared towards the midstream oil & gas industry. Bringing additional CRM functionality and controls into the OASyS platform, this update improves an operator's ability to safely and efficiently operate their pipelines.
Pipeline operation – Liquids Management System (PO LMS)
Pipeline Operation – Liquids Management System is the most widely used real-time liquids management software for pipeline operations in the world. The latest release of PO LMS offers increased safety with new pipeline safety related applications as well as enhancements for smoother upgrades & improved maintainability. This is evident with added enhancements, such as:
Product Transfer that works to verify petroleum products on either side of a valve are compatible before allowing it to open./li>
Action Sequence which allows for a series of commands to be executed, enabling an operator to shut down a pipeline, in the correct order, with a single click.
Gas operations
At the Innovation Summit, Schneider Electric Software also released product enhancements focused on usability and driving operational efficiency for both gas load forecasting and gas flow measurement.
Read the article online at: https://www.worldpipelines.com/business-news/21092017/schneider-electric-software-showcases-at-digital-pipelines-2017/
You might also like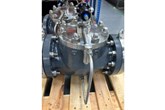 Oxford Flow expands its product range and grows market potential with new high- and low-pressure pilots.