---
LAGCOE is proud to announce LAGCOE Looey 2017 as Don Briggs, founding member and president of the Louisiana Oil and Gas Association.
LAGCOE Looey recipients have shaped the oil and gas industry through years of devoted hard work while continuously giving back to their community.
"Don Briggs has worked tirelessly to ensure the existence and health of Louisiana's oil and gas industry," said Kenny Crouch, Pressure Control Systems and LAGCOE chairman of the board. "He is quite deserving of the honour of wearing the golden hardhat in recognition for all he has done for the industry."
Briggs holds a bachelor's degree from the University of Southwestern Louisiana, which is now known as the University of Louisiana at Lafayette. He began his career in the oil and gas industry by founding Aztec Pipe and Supply, which became the conglomerate known as the Aztec Corporation. Aztec serviced the oil and gas industry from pipeline supplies to drilling fluid. Briggs also started the Louisiana Independent Oil and Gas Association (LIOGA), serving as president of the association of only 12 members, which has since become the Louisiana Oil and Gas Association (LOGA).
Today, LOGA's membership comprises more than 1300 members, representing the independent exploration, production and servicing sectors of Louisiana's oil and gas industry. Under Briggs' leadership, the association has worked with governors, legislators and members of Congress - from both sides of the aisle - to ensure that the culture of the oil and gas sector remains in Louisiana.
Briggs still holds the title of president of LOGA, where he remains committed to fight for Louisiana's oil and gas industry and serve in his community.
LAGCOE will host a luncheon to honour Don Briggs as the 36th LAGCOE Looey in August as part of the kick-off to LAGCOE 2017, held 24 – 26 October, 2017, at the Cajundome & Convention Centre in Lafayette, La., USA.
LAGCOE is a nonprofit energy industry organisation focused on educational programmes and a technical exposition & conference. LAGCOE's mission is to cultivate economic growth of the energy industry by facilitating domestic and global business development and fostering the energy workforce pipeline.
Read the article online at: https://www.worldpipelines.com/business-news/21062017/lagcoe-names-don-briggs-as-lagcoe-looey-2017/
You might also like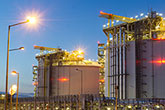 Prices pick up slightly but continue to remain deflated worldwide; prices did not respond as they did in 2022 despite disruption of gas pipeline supplies in Europe by multiple maintenance works.