Oasis Midstream Partners LP comments on Oasis Petroleum's Permian divestiture and Williston acquisition
Published by Aimee Knight, Editorial Assistant
World Pipelines,
---
Oasis Midstream Partners LP (OMP or the 'Partnership') has commented on Oasis Petroleum's recently announced Permian divestiture and Williston acquisition.
Highlights
Oasis Petroleum Inc. announced it entered into a series of definitive agreements to sell its entire Permian Basin position. The primary transaction is expected to close around 30 June, 2021;
OMP retains its Permian midstream assets in Panther DevCo and expects to benefit from incremental activity versus status quo on the Permian asset, based on plans from the new operator;
OMP's customer base continues to diversify with Oasis's Permian assets moving to third-party revenue up to 17% pro forma for Oasis' Permian divestiture. Additionally, with 1Q21 earnings results, OMP announced multiple incremental third-party contracts and continues to work a robust pipeline of new opportunities in the Williston and Permian Basins;
OMP continues to benefit from its mutually beneficial relationship with Oasis, whose compelling financial position and deep low-cost inventory are expected to provide strong support to OMP's financial outlook;
Following its recently announced Williston acquisition and Permian divestiture, Oasis has indicated it is likely to accelerate activity at OMP dedicated areas in 2022 and beyond;
OMP's 2021 guidance is unchanged from the May 4th update.
Chief Executive Officer, Taylor Reid, commented, "Oasis Midstream Partners continues to improve due to Oasis's announced divestiture of its Permian assets and recent Williston acquisition. The change in Permian operator will further diversify our customer base, and anticipated incremental activity by the new operator enhances OMP's financial outlook. Oasis's recent Williston acquisition enhances its free cash flow outlook, allowing Oasis to redirect activity from the Permian to OMP dedicated areas in the Williston in 2022 and beyond. OMP believes it is well positioned to capture volumes derived from resilient activity levels at Oasis, which are supported by our sponsor's strong balance sheet and attractive asset base that generates significant free cash flow. We look forward to solid execution and continuing to increase the value of our partners' investment."
Read the latest issue of World Pipelines magazine for pipeline news, project stories, industry insight and technical articles.
World Pipelines' May 2021 issue
The May issue of World Pipelines includes a regional report on Canada's oil and gas sector, as well as technical articles on integrity management software, leak detection, NDT, and project case studies. Don't miss our feature on young pipeliners, in which World Pipelines' Senior Editor Elizabeth Corner interviews the winners of the John Tiratsoo Award for Young Achievement, awarded by Young Pipeliners International, in partnership with PPIM.
Read the article online at: https://www.worldpipelines.com/business-news/21052021/oasis-midstream-partners-lp-comments-on-oasis-petroleums-permian-divestiture-and-williston-acquisition/
You might also like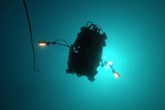 Voyis and Deep Trekker, have joined forces to achieve the successful fusion of Voyis' Discovery Camera with Deep Trekker's REVOLUTION ROV.