---
East Daley Capital Advisors, Inc., an energy assets research and data firm redefining how markets view risk in midstream and exploration and production (E&P) companies, released a new report identifying key factors that are poised to give a much needed boost to the US oil and gas midstream sector in 2018.
The newly released report, '2018 Guidance Outlook: Opportunities Abound for Midstream Investors', shows how anticipated increases in production in crude oil and natural gas will have a positive impact on many well-positioned midstream companies in 2018.
"The most influential midstream theme in 2018 is our forecast for significant oil and gas production growth," said Justin Carlson, VP and Managing Director, Research at East Daley Capital. "The main lag with production in 2017 has been the long lead time for contracting frac crews needed to complete the newly drilled wells. We see that changing dramatically in 2018. We do not anticipate that being an issue next year as field service providers are really ramping up their frac fleets. Completions will increase significantly in 2018."
The report says the Bakken formation, located primarily in North Dakota, will rebound from 2017 levels and midstream companies located in that region will benefit greatly. East Daley sees a turnaround in the Bakken as rig activity has increased steadily throughout 2017 as crude prices stabilised. Given current prices, guidance from producers and service companies, and the stable forward curve, EDC forecasts that well completions in the Bakken will continue to grow, leading to robust basin growth in 2018. The forecasted production growth will positively impact basin midstream companies such as ONEOK (OKE), Kinder Morgan (KMI), Targa (TRGP), Enbridge (EEP) and Tallgrass (TEP).
"The Marcellus will continue to be the best location for midstream companies exposed to natural gas," said Carlson. "Production in the Northeast is poised to ramp up significantly in 2018 as new pipeline projects debottleneck the region. Given our optimistic forecast for Northeast gas production, midstream companies levered to the area such as Energy Transfer (ETP), MPLX (MPLX), EQT Midstream (EQM), Williams (WPZ), Antero Midstream (AM) and Rice Midstream (RMP) should continue to benefit."
Key findings from the '2018 Guidance Outlook' include:
East Daley's analysis indicates that impending 2018 midstream financial guidance announcements could deviate significantly from market expectations.
East Daley's 2018 overall adjusted-EBITDA forecasts skew positive vs current market consensus, indicating midstream sentiment may be too pessimistic.
Pessimistic midstream sentiment, higher production growth and natural gas contract risk are three major themes that will drive the midstream sector in 2018.
East Daley's largest asset database of US energy infrastructure and patent-pending production allocation model, combined with in-depth analysis, brings greater transparency to the midstream energy financial market by providing investors with deeper, more accurate data to inform its investment decisions.
Read the article online at: https://www.worldpipelines.com/business-news/20122017/us-oil-and-gas-production-increase-set-to-boost-midstream-sector-in-2018/
You might also like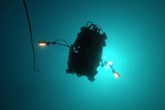 Voyis and Deep Trekker, have joined forces to achieve the successful fusion of Voyis' Discovery Camera with Deep Trekker's REVOLUTION ROV.