---
CUI Global, Inc. has announced from the Gastech 2018 Exhibition and Conference that its wholly-owned energy subsidiary, Orbital Gas Systems, has signed a definitive Co-operation Agreement with SAMSON AKTIENGESELLSCHAFT for the global sales and distribution of the Company's proprietary GasPT®, VE Technology® and combined GasPTi analyser. Under the terms of the Agreement, SAMSON will distribute the Company's solutions globally, excluding North America and the UK, and become its exclusive distributor. The document contains specific performance milestones, which SAMSON must achieve to become and then maintain 'exclusivity'.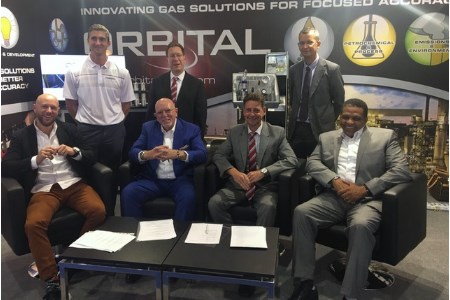 SAMSON, a market leader in flow control solutions for industrial processes, is represented in over 40 countries with more than 4000 employees, more than 50 subsidiaries and over 200 representatives worldwide. Founded in 1907 and based in Frankfurt, Germany, SAMSON develops measurement and control technologies such as regulators and control valves for industries including energy, chemical, and food and beverage industries. A leader in manufacturing control valves for process automation, the company is developing new smart systems that transform process automation to the benefit of its customers and to achieve greater flexibility, safety and reliability in industrial processes. Orbital's proprietary technology fits SAMSON's continuing drive to offer leading edge flow control solutions.
"This Agreement is reflective of our continuing ability to drive market adoption of our gas technology solutions," stated William Clough, President and CEO of CUI Global. "In SAMSON, we have secured a global partner whose established presence in energy markets worldwide can open additional opportunities for us, particularly in Russia and China. SAMSON's commitment to us recognises the disruptive nature of our solutions at a time when the shift to gas as an increasingly important component of the global energy mix gains momentum. We look forward to a successful partnership with SAMSON."
Wolfgang Beck, Director of Modular Systems and Solutions at SAMSON, stated, "Partnering with Orbital aligns us with a gas measurement technology that is quickly gaining the attention of energy operators globally. This Agreement represents another important step in SAMSON's strategy to partner with technology innovators to the benefit of our customers."
Read the article online at: https://www.worldpipelines.com/business-news/20092018/orbital-gas-systems-and-samson-join-forces/
You might also like
The use of repurposed steel pipes can support a circular economy by reducing the need for new materials and produce CO2e savings as high as 97%, says Sean Conway, Managing Director, Decom Engineering Ltd, UK.