---
AMI returns with the fifth edition of the Field Joint Coating conference, which offers attendees the opportunity to meet, identify and overcome the challenges in field-applied coatings for steel pipelines. Leading experts will gather at Field Joint Coating 2018 to discuss the latest innovations and trends that are driving change in the pipeline industry. New for this year, the conference will include two panel discussions debating the industry, its challenges and outlooks. Panellists include Saudi Aramco, Mekorot, Serimax Field Joint Coatings, Pipeline Induction Heat, SPIECAPAG, RoseHill Offshore and more to be announced.
This two-day international conference will take place on 9 - 10 October at the Park Plaza Victoria in London, UK. The conference will provide a forum for the entire supply chain, including material and manufacturing leaders, pipe coaters and line operators to come together to explore the latest technological advances and offer an insight the future of the industry. The event provides a platform for all industry professionals and their supply chain to exchange ideas, learn about latest developments in this market and to grow their network.
Below is a preview of the event, taking a closer look at the international line-up of expert speakers and the topics that will be covered.
Making smart decisions today for growth tomorrow
The opening session will offer an overview into the industry and a chance to reflect on the challenges faced. John Carter, Business Development Manager of Coatings at SGS in the UK, will provide an overview of how the pre-qualification testing of field joints has changed between pre- and post- oil crisis. Finishing off this session is a panel discussion looking at end to end perspectives on industry developments hosted by Shawcor.
Offshore field joints
DNV GL will start this session with a joint paper by Anette Pedersen and Bjarne Jansen, both Principal Engineers. They will offer an insight into the updated requirements and trends in the offshore FJC industry. Mr Randall Perkins, Director of Engineering at Aegion then discusses new developments in polypropylene offshore field joints. Followed by Mr. Jan-Peder Hegdal Product R&D Manager at Shawcor who will focus on novel cost-effective insulation material for subsea production systems. Closing the session James Rimmer, Project Engineer from BHR Group who will show his results of using thermal imaging for complex subsea components and joints.
Findings from the field: materials
Materia's Dr Brian L. Conley, Director of Application Development, will open the third session with information on material properties, processing and performance of new high temperature insulating anti-corrosion materials and their application in the field offshore. Lynda Barron, Technical Manager at Pipeline Induction Heat looks at curing of FBE for field joints using low temperature. Mr Merrick Alpert, President of EonCoat wraps up the session with an update of their permanent corrosion protection solution.
Innovation in application
Day two of the conference begins with a case study about innovative field joint coating solutions for challenging projects by Mr Paul Boczkowski, Product Management Group Leader at Canusa-CPS. Following on from this presentation will be the second panel discussion focusing on technical issues pertinent to the industry today. Mr Weal Chu Technical Director at IcoaTek (Shanghai) Anti-Corrosion Technology debates electrofusion bonding between the joint casing and the mainline outer jacket. Ms Susanna Giovannini, President & CEO at IBIX will highlight the performance of automatic field joint spray flame equipment used for 3-layer coating systems. Following on from this Dr Ian Laing, Principal Engineer in the Corrosion Group at ROSEN will look at the recent experiences with flame sprayed PE and PP field joint coatings.
Looking to the future
The final session of the conference begins with Mr Dinko Cudic, Business Development Director at Presserv exploring the constraints in the coating evolution. Up next is a look at Industry 4.0 from Mr Dieter Müller, Sales Manager Pipe Insulation at Hennecke. Closing the conference is Mr Nabil Hamdy, Petrojet's Coating Expert and Senior QCI sharing his experience of working on projects in the Arabian Gulf.
Field Joint Coating 2018 is sponsored by Shawcor, Materia and Seal For Life Industries.
Full programme and booking details are available here. Field Joint Coating 2018 takes place on 9 - 10 October 2018 at the Park Plaza Victoria in London, United Kingdom. For details on exhibiting or registering, please contact Ms. Sabrina Redl at sabrina.redl@ami.international or on +44 117 314 8111.
About Applied Market Information
Applied Market Information (AMI) is a leading global market research consultancy and a leading organiser of conferences for the plastics industry around the world. AMI has offices in the UK and the US. The company provides research, consulting and analytical services and is a major publisher of commercial and technical information for the plastics industry. It organises more than 50 international conferences and seminars each year and also publishes a series of digital magazines, which are distributed free-of-charge globally on the internet and via apps for tablet computers and smartphones.
Read the article online at: https://www.worldpipelines.com/business-news/20092018/field-joint-coating-2018-registration-is-now-open/
You might also like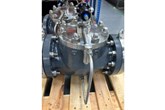 Oxford Flow expands its product range and grows market potential with new high- and low-pressure pilots.