---
Libryo, the cloud-based legal compliance software company, is offering oil and gas professionals worldwide free access to its COVID-19 regulatory tracking platform.
Until 30 September, users can sign up to receive real-time updates and full access to all relevant Coronavirus regulation across 16 countries and 8 US states. Since March, Libryo's automated technology has tracked and notified users of over 400 COVID-19 related laws to know and comply with.
Alongside reviewing up-to-date legal information in both full source and highlight formats, users can store their related legal documents, share updates with co-workers via the in-built messaging platform and clearly detail which regulations they've studied and understood. This functionality keeps companies abreast of the rapidly changing regulatory landscape and helps support multi-jurisdictional compliance to COVID-19 legal obligations.
Malcolm Gray, CFO and co-founder of Libryo, commented: "Just four months following the first reported case of COVID-19, we've already seen hundreds of new regulations relating to the virus and associated hygiene management passed worldwide. With the volume and complexity of the regulatory landscape only set to increase, we wanted to offer oil & gas professionals a helping hand – to keep them informed about their new legal obligations and assist with achieving company-wide compliance.
"Our platform has been designed to tackle the frequency, complexity and lack of searchability of legal records. We want to make it easier for organisations to stay updated with changes and understand constantly changing COVID-19 laws relevant to them – helping avoid the consequences of non-compliance. Libryo's technology can help you and your businesses during this uncertain time.
"Libryo is a cloud-based, digital solution that effectively tracks, filters and configures your businesses applicable regulations. We are aiming to provide you with greater certainty and peace of mind in this fast changing and often complex space. If you think we can be of help and would like to experience the Libryo platform, simply fill out a short form and enjoy free platform access until 30 September – we are excited to support you."
Founded in 2016, Libryo currently helps over 130 organisations and more than 10 000 users with their legal compliance by filtering all laws and delivering only the regulations that are relevant to that business.
Read the article online at: https://www.worldpipelines.com/business-news/20052020/libryo-offers-covid-19-advice-to-oil-and-gas-sector/
You might also like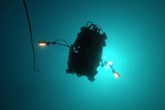 Voyis and Deep Trekker, have joined forces to achieve the successful fusion of Voyis' Discovery Camera with Deep Trekker's REVOLUTION ROV.