---
"Revenue for the fourth quarter was US$39.1 million, US$17.8 million above the same quarter last year, and net income of US$3.0 million was an increase of US$5.5 million compared to the same quarter of 2020. For the year ended 31 January 2022, revenues of US$138.6 million were US$53.9 million higher than the prior year. The resulting net income of US$6.1 million was US$13.7 million higher than the prior year," noted President and CEO, David Mansfield.
"The adverse impact of the COVID-19 pandemic began to recede in the first quarter of fiscal 2021, resulting in an improvement in business activity and profitability. With rebounding oil prices and the recommencement of paused projects, we experienced profitability improvements in all of our business units. This year's results also benefitted from the Company's ability to continue to operate with a lower overhead cost base that was implemented in response to the downturn during the pandemic. In addition, the business recovery we experienced this year allowed us to resume our focus on implementing the growth plans that were paused in 2020. These initiatives recommenced during 2021 and will be impactful to our future results.
"In the past year we also enhanced our liquidity by entering into a sale and leaseback agreement for our land and buildings in Lebanon, Tennessee and by extending our US$18 million North American credit agreement for an additional five years. With liquidity provided by these measures, we commenced a share repurchase program in October of last year," Mr. Mansfield continued.
"I am proud of how our employees and Board of Directors responded to the challenges of the last two years. Their dedication and resilience not only helped us weather the pandemic, but also positioned us to respond quickly to the subsequent recovery," concluded Mr. Mansfield.
Read the article online at: https://www.worldpipelines.com/business-news/20042022/perma-pipe-announces-4q21-financial-results/
You might also like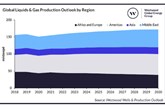 New report from Westwood finds liquids and gas production set to reach 173 million boe/d by 2030, with 9% growth on 2022 levels.