---
Buckeye Partners, L.P. has announced that it completed the sale of a package of domestic pipeline and terminal assets to a subsidiary of InstarAGF Asset Management Inc. for cash proceeds of US$450 million.
The Asset Package includes: a jet fuel pipeline from Port Everglades, Florida to the Ft. Lauderdale and Miami, Florida airports; pipelines and terminal facilities serving the Reno, Nevada; San Diego, California and Memphis, Tennessee airports; and refined petroleum products terminals in Sacramento and Stockton, California.
Buckeye Development & Logistics, a subsidiary of Buckeye, will continue to operate and maintain these assets for the buyer under a long-term contract.
The proceeds from the sale were used to repay borrowings on Buckeye's revolving credit facility.
As previously announced following the completion of Buckeye's strategic review, this sale was one of several actions designed to: (1) maintain Buckeye's investment grade credit rating by reducing leverage; (2) provide increased financial flexibility, eliminating the need for Buckeye to access the public equity markets to fund annual growth capital; and (3) reallocate capital to the higher return growth opportunities across our remaining assets.
The process to obtain the regulatory approvals that are conditions to closing Buckeye's previously announced sale of its equity interest in VTTI B.V. remains on track and Buckeye currently expects to close the VTTI sale early in 1Q19.
Read the article online at: https://www.worldpipelines.com/business-news/19122018/buckeye-partners-announces-pipeline-and-terminal-sales/
You might also like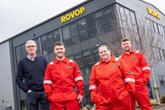 ROVOP focused on producing the 'next generation' of ROV pilots, adds three new trainees to its training programme.