---
Members of the world's senior government and industry elite joined together to discuss the critical role of gas in the transition from high carbon to renewable energy at Gastech, the global exhibition and conference at the forefront of the international gas, LNG and energy industries and GPEX, bringing together the global power and energy community to enhance energy transition.
Day two of Gastech began with a thought-provoking keynote address from Lorenzo Simonelli, President & CEO, Baker Hughes, a GE company who addressed the importance of innovation in driving market growth.
This was followed by a lively Ministerial panel discussion involving senior government officials from major energy markets, including His Excellency Cesar Abi Khalil, Minister of Energy and Water, Government of Lebanon, Neil Chatterjee, Commissioner, US Federal Energy Regulatory Commission (FERC), and Dave Nikolejsin, BC Deputy Minister, who talked about the economic transformation they expect from gas and its humanitarian potential.

Left to right: Steve Sedgwick, CNBC Anchor; H.E. Cesar Abi Khalil, Minister of Energy and Water, Government of Lebanon; Neil Chatterjee, Commissioner, US Federal Energy Regulatory Commission; and Dave Nikolejsin, Deputy Minister, Energy, Mines and Petroleum Resources, British Columbia, Government of British Columbia.
Day two of the inaugural GPEX focused on themes including financing the future of the energy transition and new business models. Joel Prohin, Head of Portfolio Management for the French sovereign fund Caisse Des Depots, Graham Taylor, Vice President, Moody's Investor Service, Salman Khan, Senior Power Market Analyst, Genscape, and Carlos Rey Micolau, Director of Foresight Group, discussed mechanisms for funding and encouraging the uptake of clean energy. The question of the efficiency of carbon pricing to reduce emissions created an interesting debate between speakers and the audience.
Also included in the day's topics was a key plenary discussion on the role of gas and renewables in driving the energy transition. This was followed by a keynote address from Kristian Ruby, Secretary General, Eurelectric, who gave an insightful speech on electrification and its impact on enabling new business models.
GPEX's morning sessions ended with a panel discussion on decentralisation between Tilman Tütken, Vice President and Head Region Europe for MAN Energy Solutions, Carmen Gimeno, Secretary Generala for GEODE, Carlota Pi, Co-founder and Executive President, Holaluz and James Johnston, CEO, Open Utility.
Both Gastech and GPEX are being held in the Fira Gran Via, Barcelona, until Thursday 20 September.
Nick Ornstien, Vice President Energy – UK, dmg events said: "Day two of Gastech and GPEX provided us with yet more of the highest quality debate on the biggest issues affecting the global gas, LNG, power and energy sectors. The symbiosis between both events was clear to everyone today as they both considered a unifying theme – the crucial role that gas will play in enhancing the global energy transition.
"The ability to explore the future importance of a range of energy sources from different angles is why Gastech and GPEX are among the most important events on the energy industry calendar."
The Gastech exhibition is bringing together over 700 global exhibiting companies and 30 000 visitors from across the upstream, midstream and downstream gas, LNG and energy industries worldwide. Spanning over 82 technical sessions, the technical conference is offering attendees the best business critical content spanning the entire value chain.
GPEX 2018 is addressing the theme of the energy transition, providing an in-depth and thought-provoking examination of the strategies, technologies and innovations shaping our energy future. The event will see collaboration between international power and energy leaders, to examine long-term changes in the way energy is produced, distributed and consumed.
The events will include two more days of panel discussions and presentations from the industry's key global leaders, addressing the most current gas and LNG issues, whilst also looking to the future.
Read the article online at: https://www.worldpipelines.com/business-news/19092018/global-leaders-discuss-future-of-worlds-energy-focus/
You might also like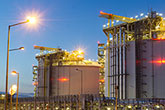 Prices pick up slightly but continue to remain deflated worldwide; prices did not respond as they did in 2022 despite disruption of gas pipeline supplies in Europe by multiple maintenance works.