---
Leading global composite pipe technology company Strohm has opened a new office in Rio de Janeiro and is establishing a centre of excellence for engineering its Thermoplastic Composite Pipe (TCP) technology as part of its growth strategy in South America.
Strohm is extending its footprint in Brazil and gearing up for the execution of a significant contract, which is expected to be announced soon. The company is aiming to hire an additional ten local people over the next twelve months to bolster the engineering and back-office support teams to further enhance business development opportunities.
Once the operation ramps up in the coming years, there are also plans to establish a local TCP manufacturing capability to better support the clients in the region.
Strohm's TCP technology outperforms existing solutions in terms of durability, corrosion resistance and total installed cost. Further cost reductions are possible by capitalising on the knock-on effects of using TCP.
Renato Bastos, who has been Strohm's vice president in Brazil for the past three years, will head up the Rio de Janeiro site. He has over 20 years' experience in the energy industry, with a strong background in the installation of steel and flexible pipes.
Mr Bastos said: "With Brazil's ultra deepwater market ramping up and an increasing number of independent operators acquiring fields from Petrobras, we see opportunities both in the highly demanding pre-salt applications as well as with the independents on the mature fields.
"With this move, we are in a great position to take advantage of these opportunities. Our TCP is perfectly suited as it's non-corrosive and robust, offering up to 60% reduced CO2 footprint compared to steel alternatives. It also has reduced installation costs as it is so lightweight.
"Establishing a new office in Rio as well as a new TCP engineering centre is an important stepping stone towards our long-term vison of designing and manufacturing locally in Brazil. It also enables us to further pursue relevant research and development projects with the operators established in country, under Brazil's National Agency of Petroleum framework, as well as demonstrates our commitment to our clients and the local economy."
As a global leader in TCP, Strohm started a staircase qualification programme in 2018 for flowlines intended to be deployed in deep water Brazil.
Progressing on its roadmap towards ultra-deepwater dynamic applications in harsh environments, Strohm now sets up for the ultimate goal - the TCP Riser. Strohm's TCP Riser design delivers the lowest total installed cost solutions for such demanding applications, whilst offering maximum flexibility to operators in terms of subsea configuration and choice of installation method. The TCP Riser developed by Strohm optimises cost with minimum bend radius and weight, using only robust and field proven materials.
The TCP Riser is installed using vessels currently available in the market, and as it does not require any buoyancy elements during installation, there is a significant reduction in costs and CO2 emissions.
As part of Strohm's plans for expansion in Brazil, the company has also launched a Portuguese version of its website: https://strohm.eu/pt
Read the article online at: https://www.worldpipelines.com/business-news/19082021/strohm-plans-new-tcp-centre-of-excellence-and-office-base-in-brazil/
You might also like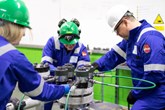 3t EnerMech named regional winner at top engineering awards for the second year in a row.