---
The American Petroleum Institute (API) has announced the winners of the 2019 Distinguished Pipeline Safety Awards. The award recognises one small, medium and large operator, selected by their peers and shown to be leaders in fostering a safety culture; proactive sharing and learning of leading practices; and participation in API policy and technical work, including the implementation of Recommended Practice (RP) 1173.
"Safety is one of API's guiding principles, and these operators have shown tremendous leadership through their continuous commitment to improvement," API President and CEO Mike Sommers said. "Strengthening safety culture and enhancing pipeline integrity truly stand out in our quest toward zero incidents and industry-wide safety, as well as the safety of surrounding communities and the environment, and we're very pleased to be sharing this award with these operators."
CITGO Pipeline won the distinguished safety award in the small operator category. "Safety in all areas of our operations is a CITGO core value and is ingrained in our corporate culture," CITGO President and CEO Carlos Jordá said. "So we are truly honoured to be recognised by our peers for our ongoing pipeline safety efforts. With this award we remain committed both to our own continuous improvement and to sharing best practices so that together with our peers we can make our industry even safer for our people and the environment. Our communities expect this and so do we."
Colonial Pipeline won the distinguished pipeline safety award in the medium operator category. "The Colonial Pipeline team is honoured to receive this prestigious award," President and CEO of Colonial Pipeline Company Joe Blount said. "This recognition is especially meaningful because it is awarded by our peers – and because it goes beyond safety performance to include the broader perspective of industry leadership. At Colonial, we strive for excellence in everything we do – and our commitment to safety is a great example of that effort. Colonial's holistic view on safety includes our dedication to day-to-day safe operations for our employees, our customers, the communities we serve, and the environment. It also includes our support of, and participation in, the energy industry – out of respect for the important role we all play for the nation. I am so proud of the One Colonial Team and their award-winning safety performance. In true Colonial spirit, we are already challenging ourselves to 'Raise the Bar' and continuously improve our safety results."
Marathon Pipe Line won the distinguished pipeline safety award in the large operator category. "They're out there giving their all, focused on our mission to safely and reliably operate pipelines 24 hours a day, 365 days a year – and they're making a difference," Marathon Pipe Line President Shawn Lyon said. "No matter what, even during this pandemic, they always answer the higher calling to be guardians of public safety. The safety of those in the communities where we operate – that's at the heart of everything Marathon Pipe Line does. We're truly honoured by this recognition from our peers. There are so many excellent operators who helped select Marathon Pipe Line, and I'm humbled by their confidence in us."
Read the article online at: https://www.worldpipelines.com/business-news/19082020/api-announces-winners-of-distinguished-pipeline-safety-awards/
You might also like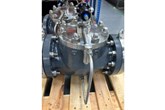 Oxford Flow expands its product range and grows market potential with new high- and low-pressure pilots.