---
Marsh, the world's leading insurance broker and risk advisor, has announced the launch of its Engineering Hub in Al-Khobar, Saudi Arabia. The Energy Engineering hub is Marsh's third in the Middle East and Africa (MEA) region and joins the business's existing Engineering Hubs in Abu Dhabi and Dubai. The hub will be led by Nick Holland, who will relocate to Al-Khobar from Dubai. He reports to Ian Roy, Middle East Engineering Leader, Marsh Specialty.
As part of Marsh Specialty's Global Energy & Power Practice, the Engineering Hubs provide risk and product liability surveys, business interruption reviews, and terrorism and political violence assessments to energy, power, and commercial property firms operating in the MEA region. In recognition of Saudi Arabia's ambitious renewable energy goals, the Al-Khobar Hub also provides dedicated local support to organizations in their transition to more sustainable energy sources.
As Engineering Hub Leader, Saudi Arabia, Mr. Holland will be responsible for directing client projects and working with the local insurance and reinsurance markets to develop their risk engineering capabilities. Mr. Holland joined Marsh in 2016 and was previously a Risk Engineer in the Global Energy & Power Practice, based in Dubai. Before joining Marsh, he was at ExxonMobil for eight years, where he was engaged in various technical and managerial roles at an integrated refinery and petrochemical complex located in the United Kingdom.
Commenting on the launch, Bassam Al Bader, CEO, Marsh Saudi Arabia, said: "Marsh is investing significantly in expanding its specialist capabilities and geographical reach across the MEA region to support energy and power clients as they adapt to greater demands on their resources, while managing the transition towards decarbonisation.
"Nick's extensive experience in critical risk mitigation – gained at some of the world's most complex manufacturing sites – will be invaluable to our technically diverse clients in Saudi Arabia. We expect to announce, in the coming months, further additions to the team that draw on the country's rich expertise as we continue to invest in local talent."
Mr. Holland added: "The energy sector is the cornerstone of Saudi Arabia's economy; as well as being the world's largest producer of oil and gas, the Kingdom has ambitious plans to develop its capabilities in solar energy and carbon free fuels such as green hydrogen. The new Engineering Hub in Al-Khobar will play a key role in supporting clients with operations in the Kingdom to manage their risks and advance their development."
Read the latest issue of World Pipelines magazine for pipeline news, project stories, industry insight and technical articles.
World Pipelines' July 2021 issue
The July issue of World Pipelines includes a regional report on China's major oil and gas pipeline projects, as well as technical articles on surface preparation, welding, vacuum lifting, inline inspection and more. Don't miss our annual Pigging Services Directory, showcasing the latest in pigging products and services, along with pigging project updates.
Read the article online at: https://www.worldpipelines.com/business-news/19072021/marsh-launches-saudi-arabia-engineering-hub/
You might also like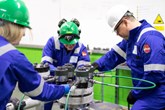 3t EnerMech named regional winner at top engineering awards for the second year in a row.