Ritchie Bros: survey and auction results reveal UK and European equipment boom
Published by Aimee Knight, Editorial Assistant
World Pipelines,
---
Many construction businesses across Europe are gearing up for an upturn in productivity this year by adding to their equipment fleets, moving towards online buying and selling and looking to credible data to support their fleet management. These trends were all highlighted during a recent customer survey conducted by Ritchie Bros and backed up by statistics from across its European auctions.
The survey shows that UK plant equipment owners have been holding onto most of their fleet in 2020, with 39% claiming to have sold no machines last year, with demand for new equipment soaring. This compares against a total European survey average of 25%. In addition, with the UK market dominated by plant hirers, 58% of UK respondents said they also expected to rent more equipment, highlighting a 'top-up' approach to plant equipment fleets.
Among the findings, there was almost an equal split between UK customers agreeing that offline was a suitable replacement for online, with 47% agreeing that digital transactions are the way forward and 53% disagreeing with this sentiment. This demonstrates that in the UK market, there is a strong place in the future for both methods of conducting transactions.
Rupert Craven, Sales Director UK & Ireland at Ritchie Bros, comments: "So-called 'shovel ready' projects like HS2, housebuilding and the acceleration of broadband rollout programs are really driving demand. But what is also clear is that there continues to be growing confidence and therefore participation in online auctions across the region, which is driving both demand and bidding activity.
"This has continued to grow throughout the pandemic as individuals have built a greater acceptance of both selling and purchasing assets online through trusted providers. This is reflected in the survey results, with 71% of all participating construction businesses seeing using online channels to buy and sell plant machinery as a solid replacement for in-person methods.
"In March 2020 we switched to using our tried and tested timed auction software, previously used for smaller lots like tools. Since this time, we have seen continued growth in registered buyers, engagement and volume of bids. Our own data shows website traffic up 13% over the year with more than 140,500,000 visits, online bidder registrations up 77% to 1.2 million bidders, and accepted bids increasing by 65% to 15 million. And buyer feedback has highlighted features like auto extended which acts as a digital auctioneer, as being an important change to give more time to place additional bids.
Read the latest issue of World Pipelines magazine for pipeline news, project stories, industry insight and technical articles.
World Pipelines' May 2021 issue
The May issue of World Pipelines includes a regional report on Canada's oil and gas sector, as well as technical articles on integrity management software, leak detection, NDT, and project case studies. Don't miss our feature on young pipeliners, in which World Pipelines' Senior Editor Elizabeth Corner interviews the winners of the John Tiratsoo Award for Young Achievement, awarded by Young Pipeliners International, in partnership with PPIM.
Read the article online at: https://www.worldpipelines.com/business-news/19052021/ritchie-bros-survey-and-auction-results-reveal-uk-and-european-equipment-boom/
You might also like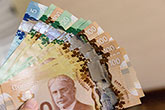 Trans Mountain Corp applies to regulators for tolls on its long-delayed 590 000 bpd pipeline expansion.