---
On 1 March 2021, Dr. Reha Cetinkaya (44) will take over from Gerhard Gebhards (65) as Director Engineering at DENSO Group Germany. Mr. Gebhards, the renowned industry expert, will take his retirement after 24 years of service to the company. Having led the Infrastructure division, Gerhard Gebhards has been responsible for the successful development of the Engineering division since 2016.
He contributed his wide-ranging specialist expertise to renowned committees, authorities and training centres as well as being an active member of the Road and Transportation Research Association (FGSV). He was involved in numerous working groups and made a significant contribution to the development of the regulations (ZTV Fug-StB) in working group 8.3.1.
"Over the course of his long career, Gerhard Gebhards successfully launched new and innovative solutions such as the DENSOLASTIC® product range. We were therefore not only able to open up new business fields in railway and station construction, but we have also been able to contribute to environmental protection, because joint seals protect surfaces from the contamination of water-polluting substances in accordance with the Water Resources Act. Thanks to his profound knowledge of technology and standards and his absolute reliability, Gerhard Gebhards was equally appreciated both internally and externally. We would like to thank him for the valuable contribution he made to the successful growth of the company", said Thomas Kaiser, Managing Director of DENSO Group Germany.
Reha Cetinkaya has been working for the DENSO Group as Deputy Director Engineering for six months. After completing a doctorate at the renowned Chair of Transport Engineering [Lehrstuhl fu¨r Verkehrswegebau] at the Ruhr University in Bochum, Cetinkaya worked for BASALT AG, initially as Central Laboratory Director. With extensive committee work in various committees of the FGSV and the German Institute for Standardisation (DIN) as well as numerous lectures and publications in the trade press, this Turkish and English-speaking engineer is considered a recognised specialist in road and traffic engineering.
"As a proven technical expert, Reha Cetinkaya will contribute his excellent industry knowledge to product development and continue the successful development of the Engineering department. We are very pleased to be able to further consolidate DENSO's leading position as a leader in technology and quality in our business fields with him," continued Kaiser.
"The requirements for the functionality of products are increasingly changing. With optimal product materials and features, we will continue to provide our clients with future-proof solutions and DENSO will be able to tap into new application areas," commented Cetinkaya, looking forward to his new role.
For more news and technical articles from the oil and gas pipeline industry, read the latest issue of World Pipelines magazine.
World Pipelines' February 2021 issue
The February 2021 issue of World Pipelines includes: a report on Australasian pipelines; an interesting look at the need to protect pipeline information from the Freedom of Information Act (USA); analysis of Ukraine's place in the global gas sector; and technical articles on subsea repair, coatings, ILI and SCADA systems.
Read the article online at: https://www.worldpipelines.com/business-news/19022021/new-director-engineering-at-denso-group-germany/
You might also like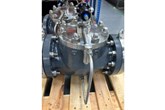 Oxford Flow expands its product range and grows market potential with new high- and low-pressure pilots.