Business news - 19 January 2018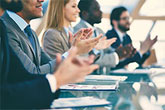 NEB has established a generic process to address provincial and municipal permit issues regarding the Trans Mountain pipeline expansion project.
TransCanada has secured around 500 000 bpd of firm 20 year commitments for Keystone XL.
New API study shows that Millennials are major players in the oil and natural gas workforce.