---
Enterprise Products Partners L.P. announced on Friday that it will adopt five new quality specifications for sweet crude oil, also referred to as West Texas Intermediate (WTI) at its terminal in Cushing, Oklahoma.
Enterprise's Cushing terminal is a physical delivery point for NYMEX WTI futures.
"We are pleased to offer an expanded quality assurance programme which is consistent with the standards required by our producing and refining customers, both domestic and international," said Brent Secrest, Senior Vice President, Liquid Hydrocarbons Marketing, for Enterprise's general partner. "The new specifications will enhance stability, predictability and integrity for the WTI crude oil stream, which can be delivered against the NYMEX WTI futures contract at Cushing."
The five additional quality parameters include tests for distillation, vanadium, nickel, total acid number (TAN) and micro carbon residue. The new WTI quality specifications are expected to take effect starting with the January 2019 delivery month.
Enterprise Products Partners L.P. is one of the largest publicly traded partnerships and a leading North American provider of midstream energy services to producers and consumers of natural gas, NGLs, crude oil, refined products and petrochemicals. Its services include: natural gas gathering, treating, processing, transportation and storage; NGL transportation, fractionation, storage and import and export terminals; crude oil gathering, transportation, storage and terminals; petrochemical and refined products transportation, storage and terminals; and a marine transportation business that operates primarily on the United States inland and Intracoastal Waterway systems. The partnership's assets include approximately 50 000 miles of pipelines; 260 million bbls of storage capacity for NGLs, crude oil, refined products and petrochemicals; and 14 billion ft3 of natural gas storage capacity.
Read the article online at: https://www.worldpipelines.com/business-news/18122017/enterprise-adopts-new-sweet-crude-specifications/
You might also like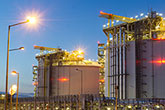 Prices pick up slightly but continue to remain deflated worldwide; prices did not respond as they did in 2022 despite disruption of gas pipeline supplies in Europe by multiple maintenance works.