---
Supported by its shareholder the IK 2007 Fund, which is advised by IK Investment Partners (IK), Doedijns Group International (DGI), through its US subsidiary Logan Industries International Corporation (DGI Logan), has acquired Hadco Services Inc.
Hadco is a specialised repair and service company based in Mobile, Alabama.
DGI, headquartered in the Netherlands, is a leading supplier of hydraulic equipment and repair and maintenance services for a wide variety of industries. The acquisition of Hadco fits perfectly into DGI's diversification strategy. Hadco has a strong presence in the Alabama steel region and the US dredging industry, two target markets for DGI. Hadco's focus is on repair and (field) services for hydraulic cylinders, gearboxes and pumps and further strengthens the repair and maintenance capacity of DGI.
The acquisition of the assets of Hadco follows the opening of DGI Logan's Louisiana based Offshore Operations & Maintenance Services location in January 2017. The combination of the three USA based DGI Logan locations (Houston, New Iberia and Mobile) gives the company a strong local presence in the oil and gas, steel and dredging industry, enabling DGI Logan to service its customer base locally. In addition, the engineering support will complement Hadco's repair skills and the scale of the combination will lead to a wider repair and maintenance solutions portfolio. Additionally the support of New Iberia and Houston will open up a higher tier level capacity of repairs to Hadco Services.
Founded in 2005, Hadco is currently owned by its founder, Bobby Hadley. He will remain at Hadco as the General Manager to provide continuity and stability for this business and current customers. "The link up with DGI Logan will allow us to further expand our hydraulic services and capacity, benefitting our existing customers. We are looking forward to collaborate with our new colleagues at DGI Logan," said Hadley.
Frank Robben, CEO of DGI, said: "The acquisition of Hadco is the next logical step in our strategy of industry diversification and further develop of DGI's footprint. We now have acquired a business that is highly respected in the steel and dredging industry, and claimed a presence in the strategically important Alabama region which is home to a large segment of the USA steel industry. Additionally, Hadco's expertise in hydraulic repair and maintenance will reinforce our competitive advantage."
IK Investment Partners commented: "This transaction is in line with our strategy to support DGI's international expansion. The company further strengthened its position as a hydraulic market leader, providing engineering, design, manufacturing, repair and maintenance services for high demanding industries."
Dean Carey, Technical Director at DGI Logan, is excited to start work with Hadco: "This move to join-up with Hadco has many benefits to both companies. It is the obvious next move, and we are extremely pleased to join forces with Bobby and his team. The integrity and loyalty Hadco shows when dealing with their customers and employees matches the way DGI Logan does business."
Read the article online at: https://www.worldpipelines.com/business-news/18082017/dgi-logan-acquires-hadco/
You might also like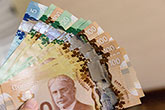 Trans Mountain Corp applies to regulators for tolls on its long-delayed 590 000 bpd pipeline expansion.