---
According to audited financial statements, SOCAR's gross profit in 2017 increased by 78% to AZN 92.6 billion (approximately US$54 billion). Compared to the results for 2016, the net profit increased nearly 6 times reaching AZN 2.09 billion. SOCAR increased its total assets by 16% to AZN 61.3 billion. The financial results and indicators for 2017 exceed the results achieved before crisis in the oil industry.
These positive financial results can be attributed largely to the following:
In 2017, SOCAR almost tripled the volume of oil and oil products purchased from third parties, which resulted in the growth of overall trade turnover by more than double.
Higher profits from petrochemical products.
Crude oil prices in the world markets increased by approximately a quarter compared to the previous year.
SOCAR increased its share in the AIOC, the operator of the Azeri-Chirag-Deepwater Gunashli (ACG) field.
On the other hand, such factors as SOCAR's higher share in ACG, increasing its share in SOCAR Energy Georgia to 75.5%, and the increase in raw material and investment costs due to the rising oil prices naturally resulted in higher overall costs and liabilities. However, the growth in total assets of the company was higher than the growth rate of total liabilities. Thus, the positive difference between SOCAR's total assets and total liabilities was close to AZN 22 billion.
SOCAR President Rovnag Abdullayev evaluating the results of 2017 said: "Last year's financial results show that SOCAR already managed to exceed the results it achieved before the crisis in the global oil industry. These positive indicators have been achieved thanks to the professionalism, dedication and responsibilities of the Azerbaijani oil workers. SOCAR generates its revenue not only from the sale of Azerbaijani oil, but also from the sale of oil purchased from the third parties and petrochemical products. This is a clear indication of the effectiveness of the sustainable development strategy we have implemented in SOCAR."
SOCAR Vice President for Economic Issues Suleyman Gasimov said: "In recent years, SOCAR has been able to attract financial resources on favorable terms as a result of its active financial operations, in order to carry out simultaneously several new projects. This year, six large projects of SOCAR are being been put into operation. While, in previous years, the growth of financial liabilities of these projects has been noticeable, in the near future we will also see the benefits of the external financing used for these projects. At present SOCAR's assets exceed the company's financial liabilities and this positive difference is nearly AZN 22 billion."
As in the previous years, an international audit company, Ernst & Young Holdings (CIS) BV, gave positive audit opinion to SOCAR's financial statements prepared for 31 December 2017. Because of additional measures taken in 2017, the audit opinion was obtained about a month earlier than in previous reporting years.
Over the past 10 years, SOCAR's gross revenues have increased by approximately 20 times and net profit by more than four times. During the reporting period the total assets of the company increased almost 5 times, including increase in current assets by about 8 times and in non-current assets by 4 times.
Read the article online at: https://www.worldpipelines.com/business-news/18062018/socar-saw-impressive-profits-in-2017/
You might also like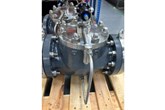 Oxford Flow expands its product range and grows market potential with new high- and low-pressure pilots.