---
EnLink Midstream, LLC (EnLink) has announced that, in response to recent commodity price and market volatility, it has reduced its 2020 total capital expenditures, net to EnLink guidance by approximately 30%. EnLink is reducing capital expenditures related to well connection and associated gathering infrastructure and is deferring several growth projects across its platform. This immediate reduction in 2020 capital expenditures, net to EnLink was primarily driven by several of EnLink's key customers decreasing drilling and completions activity in response to the current oil price environment.
EnLink's revised 2020 total capital expenditures guidance, net to EnLink, which includes both growth and maintenance capital expenditures, is US$225 million to US$285 million, compared to the previously announced range of US$315 million to US$425 million. This reflects a reduction of approximately US$115 million at the midpoint and is approximately 60% lower than actual 2019 total capital expenditures, net to EnLink. EnLink maintains its previously announced plan to fully self-fund all capital expenditures during 2020 with internally generated cash flows, and has no plans to access the capital markets during 2020.
The revised capital expenditures guidance allows EnLink to continue its capital investment program to serve customers who it believes will continue to be active in this environment, including XTO Energy Inc. (an Exxon Mobil Corp. subsidiary) and Venture Global LNG, Inc. EnLink maintains flexibility to further adjust its capital expenditures as customers adjust their plans and market conditions change.
EnLink continues to work closely with customers to evaluate near-term and long-term impacts to EnLink's business and is prepared to make further adjustments to its capital programme, as necessary. In parallel, EnLink is undertaking an in-depth review of all aspects of its cost structure and uses of cash flow given the reduced commodity price and producer activity environment, including the effect of these factors on other elements of EnLink's 2020 guidance.
"We are taking swift and decisive actions to respond to the dramatically changed environment," said Barry E. Davis, Chairman and Chief Executive Officer. "EnLink's diversified portfolio of high-quality assets and our sustainable financial strategy position us well to navigate these significant industry headwinds. Looking ahead, we remain focused on operating safely, responsibly, and efficiently to meet our customers' needs while reducing our costs and optimising performance across our business. We believe these actions will preserve our financial liquidity and flexibility while protecting our balance sheet."
EnLink exited 2019 with a US$1.75 billion unsecured revolving credit facility, upon which only approximately US$350 million was drawn, and no near-term debt maturities. EnLink's unsecured revolving credit facility is backed by 21 leading global financial institutions, and 17 of those institutions are lenders of EnLink's term loan, which does not mature until December 2021. In the event capital markets remain challenging, EnLink has the option of repaying the term loan by drawing on the unsecured revolving credit facility, which matures in early 2024, with no impact to leverage metrics or covenant calculations. EnLink's first maturity on its senior notes is during the first quarter of 2024. Approximately 35% of EnLink's outstanding senior notes have a remaining tenor of more than 20 years, and all outstanding senior notes are unsecured.
Read the article online at: https://www.worldpipelines.com/business-news/18032020/enlink-midstream-announces-changes-to-2020-capital-expenditures/
You might also like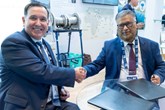 The partnership is to bring critical flange isolation offerings for the Kingdom of Saudi Arabia.