---
USA Compression Partners, LP (USA Compression or USAC), Energy Transfer Partners, L.P. (ETP) and Energy Transfer Equity, L.P. (ETE) has announced a transaction valued at approximately US$1.8 billion, providing for: the contribution of ETP's subsidiaries, CDM Resource Management LLC and CDM Environmental & Technical Services LLC to USAC; and the cancellation of the incentive distribution rights (IDRs) in USAC and conversion of the general partner interest in USAC into a non-economic general partner interest.
As part of the transaction, ETE will acquire the ownership interests in the general partner of USAC and approximately 12.5 million USAC common units from USA Compression Holdings.
The transaction is expected to be accretive to USAC's distributable cash flow in 2018.
The transaction is also expected to strengthen ETP's balance sheet by allowing ETP to use the approximately US$1.225 billion in cash proceeds that it will receive in connection with the transactions to reduce leverage.
CDM currently owns and operates approximately 1.6 million hp of natural gas compression and is focused primarily on large horsepower applications. The acquisition of CDM is expected to provide significant benefits for USAC unitholders as the combined business will have increased geographic coverage and will be one of the leading domestic compression providers. The acquisition will further expand USAC's geographic presence into regions where USAC is currently underrepresented and will result in USAC having broad coverage across US regions.
As part of its overall service offerings, CDM also provides a full range of gas treating and emissions testing services. CDM's treating activities will also complement USAC's growing station services offerings, in which USAC provides turnkey gas handling solutions for customers.
With over 70% of hp greater than 1000 hp and an average unit size of approximately 700 hp, the CDM fleet has an average age of approximately seven years and a current operating utilisation rate of 87%. On a pro forma combined basis, USAC will own and operate a compression fleet of approximately 3.4 million hp.
For 2018, CDM's EBITDA is estimated to be in the range of US$160 - 170 million, not including the benefit of synergies, which are expected to be at least US$20 million on a run-rate basis.
Consistent with past practice, USAC expects to provide full year 2018 guidance at the time of its 4Q earnings call.
Read the article online at: https://www.worldpipelines.com/business-news/18012018/usa-compression-partners-makes-compressor-business-acquisition/
You might also like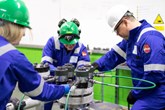 3t EnerMech named regional winner at top engineering awards for the second year in a row.