---
Phillips 66, a diversified energy manufacturing and logistics company, has announced its 2019 capital programme, investing in attractive growth opportunities and funding safety and reliability projects.
The Phillips 66 capital budget, excluding Phillips 66 Partners, is US$2.3 billion. The Phillips 66 Partners capital budget net of US$303 million expected cash capital contributions from noncontrolling interests is US$601 million.
"The 2019 capital programme reflects our strong portfolio of growth projects aligned with our long-term strategy," said Chairman and CEO Greg Garland. "We are building out our integrated Midstream infrastructure network, including pipelines, export facilities, and fractionation in support of growing hydrocarbon production in the key domestic shale plays. CPChem is also pursuing petrochemicals expansion opportunities on the US Gulf Coast.
"Disciplined capital allocation is a top priority for us, and we continue to have a long-term objective to reinvest 60% of our cash flow into the business and return 40% to our shareholders through dividends and buybacks. We are committed to a secure and competitive dividend with annual increases. Through our ongoing share repurchase programme, we buy our shares when they trade below intrinsic value and have US$2.1 billion remaining on our share repurchase authorisations as of Sept. 30. Since 2012, we have returned US$21.6 billion to shareholders through dividends, share repurchases and exchanges."
In the midstream segment, the adjusted capital budget is US$1.6 billion, including US$1.4 billion of adjusted growth capital. This adjusted capital budget includes US$601 million for Phillips 66 Partners, and reflects expected joint venture-level financing to fund a portion of the Gray Oak Pipeline construction.
Midstream growth capital at Phillips 66 includes 300 000 bpd of additional fractionation capacity at the Sweeny Hub, as well as ongoing expansion of the Beaumont Terminal and pipeline investments providing integration across our value chain. Growth capital at Phillips 66 Partners supports organic projects, including the Gray Oak Pipeline, South Texas Gateway Terminal, Clemens Caverns expansion, an isomerisation unit at the Phillips 66 Lake Charles Refinery, and the Lake Charles products pipeline.
Phillips 66's proportionate share of capital spending by joint ventures Chevron Phillips Chemical Company LLC (CPChem), DCP Midstream, LLC (DCP Midstream) and WRB Refining LP (WRB) is expected to be US$1.2 billion. Including these equity affiliates, the company's total 2019 adjusted capital programme is projected to be US$4.1 billion.
Phillips 66's expected share of CPChem's capital spending is US$572 million, including US$282 million of sustaining capital. CPChem's growth capital will fund continuing development of a second US Gulf Coast petrochemicals project for additional ethylene and derivative capacity, as well as debottleneck opportunities on existing units. Phillips 66's expected share of DCP Midstream's capital spending is US$505 million, reflecting growth projects such as the Gulf Coast Express Pipeline, DJ Basin gas processing plants, and natural gas liquids (NGL) pipeline expansions. Phillips 66's expected share of WRB's capital spending is US$165 million, including US$78 million of sustaining projects. Capital spending by these three major joint ventures is expected to be self-funded.
Read the article online at: https://www.worldpipelines.com/business-news/17122018/phillips-66-announces-2019-capital-programme/
You might also like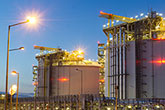 Prices pick up slightly but continue to remain deflated worldwide; prices did not respond as they did in 2022 despite disruption of gas pipeline supplies in Europe by multiple maintenance works.