---
Carboline is pleased to announce that Kevin O'Rourke joined the Carboline executive team as Vice President of Operations, effective 7 June 2021. Kevin has been in the chemical manufacturing industry for almost thirty years and has a wealth of knowledge in the chemistry and technology behind it.
Kevin began his career with Hydrite Chemical Co. as a product development chemist. He developed an interest in the manufacturing process assisting customers with their products as a sales support engineer. Eventually, Kevin transitioned into production and engineering management for one of its largest plants. More recently, he was with Henkel as a director of plant operations. Before that, he had multi-site responsibilities as an operations manager at Hawkins, Inc. Kevin completed his education at the University of Wisconsin, Whitewater.
In addition, Kevin has expertise in EH&S, continuous improvement, SI&OP, productivity improvement, as well as a strong background in sustainability. His ability to develop best practices and optimise productivity while staying focused on the needs of our customers will complement Carboline's belief that there is always a solution.
"We are very excited to welcome Kevin to the Global Executive Team. His experience will be invaluable in servicing our customers in a manner that has become synonymous with the Carboline brand," said Chris Tiernay, President and COO of Carboline Company.
"With the coatings and fireproofing industry ever-evolving, Carboline serves as a leader for performance and innovation. I am confident in my ability to ensure that we produce the best products in the industry," said Kevin O'Rourke. "I am very much looking forward to joining the Carboline team and driving growth in the years to come."
Read the article online at: https://www.worldpipelines.com/business-news/17062021/kevin-orourke-joins-carboline-as-new-vice-president-of-operations/
You might also like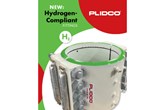 In response to the emerging transition toward hydrogen, PLIDCO has introduced a new range of products for use with hydrogen pipelines.