Business news - 17 May 2019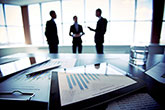 The Group has acquired Sierra Instruments, a global company specialising in the manufacture of flow measurement instrumentation.
Craig Roberts has been appointed to the role for the company's Asia Pacific & Middle East region.
Trey Walters, P.E., President and Founder of Applied Flow Technology, has been named ASME Fellow.