---
WhiteWater Midstream (WWM), operator of the Agua Blanca and Whistler pipelines, has announced the acquisition of Enstor's Waha gas storage assets. The assets will be held in a newly formed joint venture entity, Waha Gas Storage LLC, which will be jointly owned by Whistler Pipeline, LLC and Delaware Basin Residue, LLC, owner of Agua Blanca.
The Waha gas storage facilities will be connected to Agua Blanca's Waha header system and will provide material storage capacities to customers of both the Agua Blanca and Whistler pipelines. With six existing caverns and five additional permitted caverns, the Waha Gas Storage facilities can provide approximately 10 billion ft3 of storage capacity once fully developed.
"The Waha Gas Storage assets are strategically located near the Waha hub and our new joint venture plans on further optimising these facilities and their capabilities in the near-term to better serve the customers of the Agua Blanca and Whistler pipelines," said Christer Rundlof, CEO of WhiteWater. "We are extremely excited to provide our customers with another premier residue service and unmatched flexibility for their residue transportation needs."
The Waha Gas Storage facilities are expected to be in service in 4Q21, pending the receipt of customary regulatory and other approvals.
For more news and technical articles from the oil and gas pipeline industry, read the latest issue of World Pipelines magazine.
World Pipelines' February 2021 issue
The February 2021 issue of World Pipelines includes: a report on Australasian pipelines; an interesting look at the need to protect pipeline information from the Freedom of Information Act (USA); analysis of Ukraine's place in the global gas sector; and technical articles on subsea repair, coatings, ILI and SCADA systems.
Read the article online at: https://www.worldpipelines.com/business-news/17022021/whitewater-announces-acquisition-of-waha-gas-storage/
You might also like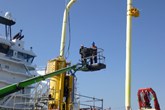 AIS awarded another custom coating project offshore Brazil.