---
Gulf Keystone Petroleum, a leading independent operator and producer in the Kurdistan Region of Iraq, is pleased to provide and operational and corporate update.
Operational
Production operations, underpinned by strong performance of the Shaikan Jurassic reservoir, continue in line with expectations. Average gross oil production of 31 563 bpd was achieved in 2018, at the upper end of the 27 000 - 32 000 bpd guidance.
The plant debottlenecking programme required to expand gross production capacity to 55 000 bpd from PF-1 and PF-2 remains on schedule for completion towards the end of 2019.
GKP has signed an agreement with Independent Oil Tools to use 'Rig 1' during the Company's workover programme to replace tubing on SH-1 and SH-3 wells and install downhole pumps (ESPs) on three other existing wells. The rig has been mobilised and is currently performing a workover on the SH-1 well to install larger bore tubing to increase productivity.
GKP has also signed an agreement with the rig operator, DQE, to use 'Rig 40' for its upcoming drilling campaign, due to start in March 2019, with the first four wells (needed for the 55 000 bpd target) expected to be completed in 1Q20.
Since July 2018, all production from PF-2 has been exported via the Atrush export pipeline which connects to the main Kurdish export pipeline. Additional pumps along with a temporary unloading facility have now been installed at PF-2 which allows the majority of production from PF-1 to be trucked to PF-2 and exported via pipeline. Today, only approximately 3000 bpd are exported by truck via Fishkhabour which lowers HSSE exposure.
Further progress has been made, including delivery of all 16 in. pipeline to the field, on the installation by KAR Group of the pipeline also connecting PF-1 to the Atrush export pipeline. This remains on schedule to be brought into service mid-2019, at which point the residual trucking of crude oil will be eliminated.
GKP and its partner MOL have agreed on a staged investment programme to increase gross production up to 110 000 bpd by 2024. The revised Field Development Plan was submitted for approval to the Ministry of Natural Resources in October 2018. The current expansion to 55 000 bpd is already underway.
Corporate
GKP has continued to receive regular oil payments from the Kurdistan Regional Government, with cash receipts of US$225 million net to GKP during 2018.
Cash balance of US$294 million as at 15 January 2019. The Company remains fully funded to complete the expansion to 55 000 bopd.
Gross capital expenditure guidance for the total 55 000 bopd project phase remains unchanged at US$200 million to US$230 million.
Of the 2018 approved gross budget of US$91 million, approximately US$40 million has been transferred to early 2019 which was primarily driven by delays in delivery of drilling and well completion equipment.
Outlook
Given the active 2019 investment programme, particularly in new wells and workovers, the Company anticipates improved production levels this year and expects gross average production guidance to be in the range of 32 000 - 38 000 bpd.
The above guidance takes account the latest drilling and project schedules, but also the temporary plant shut-downs required in 2019 for the tie-in of new facilities and wells being offline while workovers are taking place.
55 000 bpd production target moved to early 2020 due to delays in the delivery of equipment, affecting the start date of the drilling campaign, originally January, now March 2019.
The Company intends to host a Capital Markets Day in 1Q19. Further details will be announced at a later date.
Commenting, Jón Ferrier, CEO, said:
"Having successfully laid the foundations for our expansion plans in 2018, we are very pleased to have now initiated our new investment programme at Shaikan. We continue to make considerable operational headway as we look to safely increase production to 55 000 bopd, in line with our strategy. 2019 is set to be another important year for Gulf Keystone and we look forward to keeping our stakeholders updated on our ongoing progress."
Read the article online at: https://www.worldpipelines.com/business-news/17012019/gulf-keystone-petroleum-provides-operational-update/
You might also like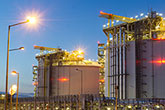 Prices pick up slightly but continue to remain deflated worldwide; prices did not respond as they did in 2022 despite disruption of gas pipeline supplies in Europe by multiple maintenance works.