TÜV SÜD National Engineering Laboratory launches new Data Analytics service
Published by Aimee Knight, Editorial Assistant
World Pipelines,
---
TÜV SÜD National Engineering Laboratory has launcheed its Data Analytics service to help oil and gas operators minimise flow meter downtime and maintenance, significantly lowering operating costs.
The total cost of calibrating an offshore flow meter is estimated to be in the region of US$50 000 or more, once all costs incurred are accounted for. Traditionally, irrespective of whether a flow meter is deviating from its required operating parameters it will be routinely scheduled for recalibration and operations stopped unnecessarily.
The new Data Analytics service will enable operators to move away from this time-based calibration approach to condition-based calibration, by using statistical modelling techniques to predict meter performance based on live and historical data. In addition, diagnostics information can be used to understand what may be negatively impacting a meter by analysing hidden patterns to identify specific fault conditions. This could include incorrect installation, instrument damage, particle deposition, the presence of an unexpected second fluid phase, and upstream or downstream flow disturbance.
Gordon Lindsay, Head of the Digital R & D Group at TÜV SÜD National Engineering Laboratory, said: "Thanks to advances in technology and increased connectivity through the Internet of Things, vast amounts of data exist but only a fraction of its potential benefit is realised. Our new Data Analytics service uses data in real-time to detect when a meter is not performing to specification and identify the cause of this failure. This means that end-users can avoid shutting down production to remove a device from the pipeline before a solution to a fault can be found. Recalibrations are both costly and labour intensive, so proactively determining the optimal calibration date delivers increased measurement confidence, reduced downtime and cost savings."
Validation of models created by the Data Analytics service can be conducted in TÜV SÜD National Engineering Laboratory's accredited calibration facility. This increases end-user confidence in results by reducing any levels of error, assuring them that the problem-solving method suggested by the Data Analytics service will be effective in the real-world.
Read the article online at: https://www.worldpipelines.com/business-news/16022021/tv-sd-national-engineering-laboratory-launches-new-data-analytics-service/
You might also like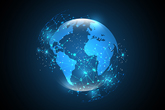 This year's COP28 President Sultan Ahmed Al-Jaber has called on global oil and gas companies to do more to achieve climate goals.