---
Elevate Midstream Partners, LLC, a full-service midstream company headquartered in Houston, Texas, has announced the acquisitions of Woodland Midstream Partners, LP and the assets of Orion Pipeline, LLC which consist of gas gathering, treating and processing assets in East Texas (the Transaction). The Transaction was completed in partnership with Elevate's financial sponsor, Tailwater Capital, an energy-focused private equity firm based in Dallas.
Elevate provides a comprehensive suite of midstream services for exploration and production companies including natural gas gathering, processing, compression, dehydration and liquids stabilisation. Through these acquisitions, the Company has established a strong asset base in East Texas and will continue exploring additional opportunities for growth in and around the existing system. Following the completion of the Transaction, Elevate will own and operate more than 180 miles of active pipelines, 19 000 hp of compression, an 80 million ft3/d gas processing plant, and related dehydration and NGL stabilisation equipment.
"We are pleased to complete the Woodland and Orion acquisitions," said Roger Fox, Chief Executive Officer of Elevate Midstream. "With assets strategically located in the core of the Haynesville and Cotton Valley formations and significant opportunities for continued growth and development across the combined company, Woodland and Orion provide a strong platform for Elevate and we look forward to growing our asset base as we continue to service our East Texas producers."
"Since partnering with Elevate in October 2017, we have worked closely with Roger and his team to execute on the Company's growth strategy," said Joel Fry, a Principal at Tailwater Capital. "These acquisitions are a prime example of Elevate's commitment to identifying underutilised assets with the potential for growth through improved operational and business development initiatives and further strengthen Elevate's growing platform."
The Woodland acquisition includes systems throughout both Texas and Louisiana, providing Elevate with an existing natural gas gathering, treating, compression and processing footprint. Additionally, the acquisition and strategic positioning of the Woodland asset includes several opportunities for growth, leveraging existing relationships around the extensive pipeline network acquired in the Transaction. In conjunction with the Transaction, select members of the Woodland management team will join Elevate, enhancing the Company's operational and business development capabilities.
Orion provides natural gas gathering, treating and compression services for production, also primarily from the Haynesville and Cotton Valley formations, in Western Panola and Eastern Rusk Counties in East Texas. The Orion acquisition is a complementary asset base comprised of five systems that provide additional scale and the opportunity to drive synergies across the combined platform.
Read the article online at: https://www.worldpipelines.com/business-news/15112018/elevate-midstream-acquires-assets-in-east-texas/
You might also like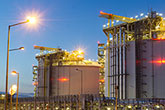 Prices pick up slightly but continue to remain deflated worldwide; prices did not respond as they did in 2022 despite disruption of gas pipeline supplies in Europe by multiple maintenance works.