---
Arundo Analytics, a software company enabling advanced analytics in heavy industry, and Dell Technologies have announced the launch of the IoT Bundle at The Royal Norwegian Consulate Shipping Conference held in Houston, Texas. The bundle consists of Dell Edge Gateway 5100 series devices combined with Arundo Edge Agent software.
Dell Edge Gateway 5100 devices are hardened and maritime class-certified, specially designed for advanced computing in remote or rugged environments. Arundo Edge Agent enables crews and operations and maintenance professionals to quickly and easily select, buffer, stream, compute and run advanced analytics on a range of signal data from critical equipment and systems, especially in maritime, oil and gas, and similarly distributed field environments.
"Dell Technologies is committed to our customers' digital future. We are excited to collaborate with Arundo Edge Agent, a proven solution for fast and easy enablement of advanced analytics in the global maritime and oil and gas industries," said Chris Wolff, Head of Global OEM and IoT Partnerships, Dell Technologies. "In conjunction with our Edge Gateway devices, crews and field personnel now have a plug-and-play solution to stream ship-to-cloud or run advanced analytics locally, even while offline, to improve ship, fleet or field operations."
Paired with Dell Technologies' industry-leading infrastructure, Arundo Edge Agent, inspired by Arundo's rich history in maritime and oil and gas, has the capacity to drive greater revenues and efficiency among businesses operating in shipping as well as offshore energy production in just 90 days or less.
"Dell Technologies is a trusted brand in the global computing industry," said Cody Falcon, VP Product, Arundo. "Given Arundo's heritage and experience in the global maritime sector, bundling Arundo Edge Agent with Dell Edge Gateway computers is a natural fit for making IoT easy and accessible for crews, vessels and fleets."
The Dell Technologies-Arundo Maritime IoT Bundle provides out-of-the-box storage, streaming and compute capabilities for shipboard analytics, and presents a powerful solution for remote assets at sea.
Read the article online at: https://www.worldpipelines.com/business-news/15112018/arundo-analytics-and-dell-technologies-launch-iot-bundle/
You might also like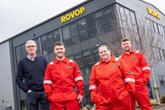 ROVOP focused on producing the 'next generation' of ROV pilots, adds three new trainees to its training programme.