Oryx launches binding open season related to a proposed new gathering system
Published by Aimee Knight, Editorial Assistant
World Pipelines,
---
Oryx Delaware Oil Transport LLC (ODOT) has announced the launch of a binding open season to obtain volume commitments to support a proposed new gathering system that, upon completion, would be capable of transporting crude petroleum from certain receipt points located in Eddy County, New Mexico to an interconnect with the Trans Permian Pipeline System at Carlsbad Station, for further transportation. The open season begins at 8:00 a.m. CDT today, 14 October, 2020 and is scheduled to end at 5:00 p.m. CST on 13 November, 2020.
Open season information
The open season process provides potential shippers the opportunity to obtain firm capacity by making volume commitments to ODOT during the binding open season timeframe. Shippers that elect to execute a transportation services agreement and make volume commitments during the binding open season will receive firm capacity, which is capacity not subject to pro-rationing during normal operating conditions, up to an amount equal to each shipper's elected volume commitment.
A copy of the open season notice, which provides a high-level summary of the key terms set forth in the transportation services contracts can be found at Oryx's website http://www.oryxmidstream.com/customer-center.
Read the article online at: https://www.worldpipelines.com/business-news/15102020/oryx-launches-binding-open-season-related-to-a-proposed-new-gathering-system/
You might also like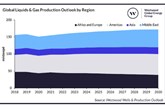 New report from Westwood finds liquids and gas production set to reach 173 million boe/d by 2030, with 9% growth on 2022 levels.