---
RSK Group Ltd, a leading integrated environmental, engineering and technical services business, announced on Tuesday that it has formally acquired RSK Orbital, SkyVision International, The Scan Station and Smith + Kennedy Architects. The four businesses are the first acquisitions for RSK in the new financial year.
Based in Tattenhall, Cheshire, UK, RSK Orbital is an aerial surveillance and photographic business that specialises in innovative geomatic solutions using aerial imagery. Founded in 1997 by Adam Gallacher and Mike Mason, the business consists of a team of experienced surveillance specialists, software developers, business analysts, cartographers, pipeline engineers, survey pilots and highly skilled operators of unmanned aerial vehicles and lidar. The company delivers high quality imagery, analytics and reporting using state-of-the-art, cloud-based software, to a diverse range of companies within the commercial, industrial and infrastructure sectors, including rail, oil, gas, telecoms and renewable-technology organisations. Some of its biggest clients include National Grid, Network Rail, SGN, Jacobs, Shell, Essar, TOTAL, SNCF and O2.
The company's cloud-based software package Visivi provides an innovative geomatic solution for linear asset constructors, developers and contractors. It enables clients to undertake virtual site visits and to collect high-resolution images to identify assets and possible project issues in advance of full surveys. It has become an invaluable data-capture tool for many of RSK Orbital's major clients, such as Network Rail, National Grid, the Northern Ireland Environment Agency (NIEA), Jacobs, Shell, BP and Scottish Power.
Sister company The Scan Station, based in Helsby, Cheshire, UK, is led by Managing Director James Maxwell. Established in 2018, The Scan Station offers specialist survey, inspection, mapping and surveillance services to the oil and gas, design and construction, manufacturing, heritage, ecclesiastical and agricultural industries. Its experience ranges from the measurement of large oilfield facilities through to small architectural details and the inspection of heritage buildings and industrial chimneys. Services include measured building surveys; laser scanning, aerial surveys and surveillance; reality capture; culvert and pipeline inspections; geographic information system mapping; computer-aided design/building information modelling; industrial asset inspections; and telecoms surveys.
SkyVision International was established 25 years ago in conjunction with Barr Air Patrol from Texas. The business patrols pipelines from the air and helps ensure the integrity of much of the UK's pipeline networks. Hugely experienced aerial observers are equipped with bespoke reporting software tools for the instant dissemination of potential threat information.
Adam Gallacher, RSK Orbital Managing Director, says: "We already have an excellent relationship with RSK and are excited to build on our success, now that we are part of the group."
"Joining RSK offers the business fantastic collaboration prospects and significant growth potential," adds James Maxwell, Managing Director of The Scan Station. "We look forward to exploring these opportunities."
Now fully integrated into the group, the three businesses will retain their existing leadership, workforce and brands, as they join RSK's geosciences and engineering division under the direction of George Tuckwell.
Smith + Kennedy Architects is a long-established architectural practice based in Dublin, Ireland. Set up in the early 1960s, Smith + Kennedy Architects is dedicated to the provision of architectural services, with an emphasis on high-quality contemporary design and professional service. The main office is in Dun Laoghaire, Co. Dublin, but the team can execute work in Europe, Africa, the Middle East and Brazil. The talented team of 20 is experienced in leading multidisciplinary teams on complex design projects and works closely with client bodies. The firm has recently won awards for the Waterways House Office Building in Dublin and the Ice House Hotel in Ballina, Co. Mayo, as well as for affordable housing in Ballymun. Key clients include Esprit Investments and O Cualann Cohousing. The firm is fully computerised using AutoCAD as its primary drawing software but is now beginning a move to Revit BIM.
Managing Director Joe Kennedy will continue to lead the business as it joins RSK's European division under the direction of Nigel Board. Smith + Kennedy Architects will work closely with RSK Ireland, RSK's existing Irish business, led by Managing Director David O'Hagan.
Joe Kennedy comments: "Collaboration has always been at the heart of the way Smith + Kennedy operates and joining the RSK group expands our ability to grow and work in multi-disciplinary structures. We hope to harness our experience in working in other jurisdictions and across most building sectors and look forward to this exciting partnership in the coming years."
Alan Ryder, RSK founder and Chief Executive Officer, adds: "The four new businesses, though very different, each fit perfectly into our growing group, widening our offering so we can deliver the greatest value to our clients. With innovation at their core, RSK Orbital, SkyVision International and The Scan Station will be fantastic assets for RSK. Ireland is an important growth area for RSK, so I am also very pleased to welcome Smith + Kennedy Architects into the group."
Based on its current trajectory and strategy, the rapidly expanding group anticipates that by 2025 it will be delivering an annual turnover of £1 billion and will employ 10 000 people around the world. RSK is actively investing in the development of new businesses and bolt-on acquisitions, as well as equipment and facilities, to provide end-to-end solutions to a wide, international client base.
Image: Alan Ryder.
Read the article online at: https://www.worldpipelines.com/business-news/15042021/rsk-group-announces-four-acquisitions/
You might also like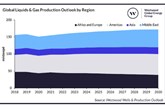 New report from Westwood finds liquids and gas production set to reach 173 million boe/d by 2030, with 9% growth on 2022 levels.