---
To mark the approximate one year anniversary of when the COVID-19 pandemic took its grip on Australia, NERA (National Energy Resources Australia) has produced a short publication looking at how the energy resources sector has weathered – and continues to weather – the storm.
Entitled "Looking ahead: COVID-19 and Australia's new energy future", the report (attached) examines among other things:
The pandemic's effect on energy resources markets.
Short-term challenges facing Australia's energy resources sector.
Opportunities for Australia's energy resources sector.
How Australian businesses responded to COVID-19.
The report also looks at how NERA is working work to boost the strength of the sector's supply chain and help businesses and initiatives build scale, create a competitive business environment for our industry partners and stakeholders and, through collaboration, lead the manufacturing of smart technologies for a clean energy resources future.
As NERA's CEO Miranda Taylor says in her foreword:
"The COVID-19 pandemic, which dominated our lives over the last 12 months, has proved challenging on so many levels, professionally and personally. And while the full implications and impacts are still being worked through, the coming year will undoubtedly still be challenging for the sector.
"However, two things are abundantly clear. Firstly, access to reliable, secure, affordable and clean energy will remain vital over the short-term and can play a major role in helping Australia through the recovery phase and into the longer term. In fact, this challenging period could be the much-needed catalyst for a fresh, far smarter and collaborative effort to plan for and manage Australia's energy transition.
"And secondly, what has been undeniable is the resilience and spirit of innovation shown by the energy resources sector and those involved in its supply chain. Innovation and adaptability have long been hallmarks of Australia's entrepreneurial business culture and these strengths have allowed many businesses, in many sectors, to weather the storm."
Read the latest issue of World Pipelines magazine for pipeline news, project stories, industry insight and technical articles.
World Pipelines' March 2021 issue
The March 2021 issue of World Pipelines includes: a regional report on pipeline projects in Asia-Pacific; a summary of the latest and best construction equipment courtesy of the annual Heavy Equipment Review; a welding-focused Q&A; and technical articles on hot tapping, sustainable steel and decommissioning.
Read the article online at: https://www.worldpipelines.com/business-news/15032021/looking-ahead-covid-19-and-australias-new-energy-future/
You might also like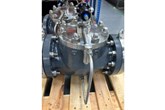 Oxford Flow expands its product range and grows market potential with new high- and low-pressure pilots.