---
Pumping on Colombia's southern Transandino pipeline was halted on Sunday after a bomb attack by the the National Liberation Army (ELN) rebels spilled crude into a river.
The attack, which occurred late on Saturday in Mallama municipality in Narino province, has not affected exports or crude production at fields in the southern jungle zone along the border with Ecuador, Ecopetrol said.
The ELN has been at war with the Colombian state since the 1960s. It was founded at the same time as its better-known Marxist cousin, the FARC.
The latest round of negotiations ended in the Ecuadorean capital Quito on Tuesday with little progress and, crucially, no agreement to extend the ceasefire.
In a televised address, President Juan Manuel Santos said the government had been willing to extend the truce. The 306 km (109 mile) Transandino has the capacity to transport 85 000 bpd of crude.
In the middle of last week, the rebels carried out three bomb attacks against the Caño Limón oil pipeline, which takes crude from the Caño Limón oil field, operated by Occidental Petroleum Corp, to the Caribbean port of Covenas. The bombings against the pipeline, which is Colombia's second most important, forced the suspension of pumping operations, the government said.
The group on Saturday kidnapped an Ecopetrol contractor repairing damage to the Cano-Limon pipeline, also bombed by the ELN, the army said.
Peace talks were suspended by Colombian President Juan Manuel Santos after his government claimed that members of the ELN had carried out several attacks against Colombian security forces and infrastructure shortly after the ceasefire agreement between the rebel movement and the government expired on 9 January.
Read the article online at: https://www.worldpipelines.com/business-news/15012018/colombian-rebels-attack-transandino-pipeline/
You might also like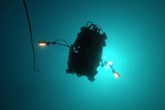 Voyis and Deep Trekker, have joined forces to achieve the successful fusion of Voyis' Discovery Camera with Deep Trekker's REVOLUTION ROV.