---
The White House said on Thursday that President Donald Trump had appointed Neil Chatterjee as Chair of the Federal Energy Regulatory Commission.
Last week the Senate confirmed Chatterjee and Robert Powelson as members of the FERC, restoring a quorum to the agency.
The Federal Energy Regulatory Commission (FERC) has its first quorum in six months after swearing in the two newly confirmed commissioners.
Prior to his confirmation, Mr. Chatterjee was an energy policy advisor to US Senate Majority Leader Mitch McConnell.
Mr Chatterjee has played an integral role in the passage of all major energy, highway, and farm policies. Prior to serving Leader McConnell he worked as a principal in Government Relations for the National Rural Electric Cooperative Association and as an aide to House Republican Conference Chairwoman Deborah Pryce.
He began his career in Washington with the House Committee on Ways and Means.
A Lexington, Kentucky native, he is a graduate of St. Lawrence University and the University of Cincinnati College of Law.
Robert Powelson, a former Pennsylvania utilities commissioner, was sworn in as FERC's third member on Thursday morning.
Chatterjee and Powelson join Cheryl LaFleur as FERC commissioners.
The Senate confirmed Powelson and Chatterjee by unanimous consent last week before leaving for a month long recess.
The confirmations were welcomed by the energy industry, which has seen infrastructure projects languish while the commission has been without a three member quorum.
FERC makes permitting decisions on energy projects such as natural gas pipelines and export terminals.
Due to retirements, FERC last had a quorum in February, and it hasn't held a meeting since President Trump took office.
Read the article online at: https://www.worldpipelines.com/business-news/14082017/ferc-quorum-is-restored-new-chair-appointed/
You might also like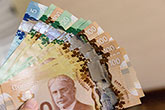 Trans Mountain Corp applies to regulators for tolls on its long-delayed 590 000 bpd pipeline expansion.