Ultimo and UReason launch joint solution to increase asset efficiency and availability for asset owners and managers
Published by Elizabeth Corner, Senior Editor
World Pipelines,
---
Enterprise Asset Management (EAM) platform provider Ultimo and Asset Performance Management (APM) specialist UReason integrate functionalities to provide real-time asset condition monitoring.
UReason is a software company that supports both asset owners and equipment vendors (OEMs) with real-time condition monitoring and predictive and prescriptive maintenance. Ultimo's EAM cloud platform helps customers increase asset availability and optimise productivity and safety. By combining the data of both platforms, unplanned downtime of assets is eliminated.
UReason's APM Studio offers the possibility to use condition-based maintenance to ensure asset reliability, worker safety, costs reduction and high asset performance. Ultimo users can now connect to UReason's APM Studio to add real-time condition monitoring and predictive maintenance capabilities to their assets. Data from the field and derived data can be integrated seamlessly from APM Studio to Ultimo using the Ultimo IoT connector. APM Studio can also create a work order in the Ultimo software, even before a non-conformity or failure occurs.
Patrick Beekman, Partner Solution Manager at Ultimo, said: "By connecting our software with new technologies, we make asset management more efficient and predictable. Our partnership with UReason is a great example of this. Their APM software uses AI, machine learning and IIoT to make the most out of all asset data. We extract the data and link it to our Ultimo platform, which allows customers to take the right action at the right time. For example, if you constantly have problems with critical control valves, actuators, motors and pumps that result in unplanned downtime, monitoring your assets in the APM Studio will give you direct insight into the likelihood of any failure-mechanisms occurring. This will result in better control over your process and minimise downtime. If a failure occurs or a condition is about to reach a critical level, a notification is created in Ultimo, alerting you on time to enable the right corrective action to be taken. With this relatively easy integration of both technologies, we create significant value for our customers."
Ronald Wissink, CEO at UReason, added: "When using our joint solution, maintenance departments can improve the use and performance of assets, stay on top of the maintenance costs and extend the lifespan of installations. Our integration with Ultimo will provide customers with improved ease of use and better efficiency. In addition, we provide more intelligence in the system so customers can control their critical processes."
Beekman concluded: "This partnership is set to benefit industrial customers in Western Europe. Both Ultimo and UReason have a solid foothold in these areas and many companies in the sector typically have multiple assets to be monitored. Interested customers of both Ultimo and UReason can contact us for a virtual demo."
Read the latest issue of World Pipelines magazine for pipeline news, project stories, industry insight and technical articles.
World Pipelines' April 2021 issue
The April issue of World Pipelines includes a regional report on oil and gas pipeline activity in the Gulf of Mexico, along with technical articles on corrosion prevention, unpiggable pipelines and repair and rehabilitation. Don't miss the article on hydrogen pipelines!
Read the article online at: https://www.worldpipelines.com/business-news/14042021/ultimo-and-ureason-launch-joint-solution-to-increase-asset-efficiency-and-availability-for-asset-owners-and-managers/
You might also like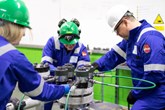 3t EnerMech named regional winner at top engineering awards for the second year in a row.