---
Quest Integrated, LLC, a long-established technology incubator with highly specialised expertise in the development and commercialisation of advanced inspection services and Quanta Inline Devices, LLC (Q-Inline), an emerging technology leader and provider of magnetic flux leakage (MFL) inline inspection services for pipelines, have announced their merger. The combined company will operate under the brand 'Qi2 Elements' and forms the foundation for developing a new technology driven industry leader in providing superior storage tank and pipeline inspection and integrity management services.
"The merger with Q-Inline is the natural evolution of what has proven to be an already successful technology partnership. Qi2 Elements' ability to now deliver technology-enhanced storage tank and pipeline integrity and inspection services through one company magnifies our capabilities and enhances our value proposition to our customers," stated Milton Altenberg, Chief Executive Officer of Quest Integrated.
Qi2 Elements expects to launch its new short-body, unidirectional electro magnetic acoustic transducer (EMAT) guided wave technology in the first quarter of 2021, which is ideally suited for the inspection of unpiggable or difficult-to-inspect small diameter gas pipelines. Additionally, the company's planned introduction of gas-coupled ultrasonic (UT) wall loss ILI technology will provide operators the capability to further optimize life cycle performance of their critical pipeline networks. Since June 2018, the two companies have been collaborating on the development of both EMAT crack and gas-coupled UT wall loss technologies for inline inspection of gas pipelines.
"We have been pleased with the evolution of the technology relationship we have enjoyed with Quest Integrated. The combination of Q-Inline and Quest Integrated is a catalyst for the expanded application of novel technologies in pipeline and storage tank inspection. We believe this transaction will bring new benefits to Quanta's pipeline and industrial customers," said Paul Gregory, Chief Strategy Officer and President, Pipeline & Industrial at Quanta Services Inc.
Quanta Services will retain a minority ownership interest in Qi2 Elements and will have representation on the board of Quest Integrated.
Read the article online at: https://www.worldpipelines.com/business-news/14012021/quest-integrated-llc-and-quanta-inline-devices-llc-announce-merger/
You might also like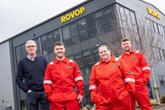 ROVOP focused on producing the 'next generation' of ROV pilots, adds three new trainees to its training programme.