---
Equitrans Midstream Corporation (ETRN), one of the largest natural gas gatherers and transmission pipeline operators in the US, with a premier asset footprint in the Marcellus and Utica Shale region, has announced that it has completed the previously announced spin-off from EQT Corporation (EQT). As a standalone publicly traded company, Equitrans Midstream's common stock begins 'regular-way' trading today (13 November) on the NYSE under the symbol "ETRN."
The separation of EQT's upstream and midstream businesses into two standalone companies – Equitrans Midstream Corporation and EQT Corporation – took effect at 11.59 pm (ET) on 12 November 2018 through a pro rata distribution of 80.1% of the outstanding common stock of ETRN. EQT shareholders retained their EQT shares and received 0.80 shares of ETRN common stock for each share of EQT common stock outstanding as of the close of business on 1 November 2018. EQT retained 19.9% of the outstanding common stock of ETRN.
"Today, we launch Equitrans Midstream as a powerful independent company with a very bright future," stated Thomas F. Karam, President and Chief Executive Officer. "Through its long history and unique asset position across the Marcellus and Utica shale region, EQT built and transformed its midstream business by capturing opportunities that achieved tremendous growth. ETRN now emerges with strong fundamentals and – as we work to deliver solutions for our customers and create additional value for our shareholders – our goal is to achieve the scale and scope of a premier, top-tier midstream company."
ETRN's strategy will focus on leveraging existing pipeline and storage infrastructure systems by developing organic growth projects that will expand its footprint across the Appalachian Basin with delivery to major demand markets. These organic projects will primarily involve gathering and transporting natural gas supplies from the most prolific natural gas basin in North America; increasing access to local, regional and national markets; and providing water and other midstream services to producers across the Basin. Additionally, ETRN's ongoing asset optimisation efforts, disciplined capital spending, and operating cost control will create meaningful value for ETRN shareholders.
"During the past decade, EQT continued to build its midstream business in parallel with upstream growth to create one of the strongest midstream companies in the Appalachian Basin," said Diana Charletta, Chief Operating Officer of Equitrans Midstream. "We are laser-focused on the execution of our inflight projects, including the Mountain Valley Pipeline, which are expected to drive more than 50% growth in EBITDA over the next three years. During this same period, the strength of our customer relationships and associated contracts are expected to drive an increase in ETRN's firm revenues, from 54% to approximately 60% of total revenue."
ETRN owns the general partner interest and a 91.3% limited partner interest in EQGP Holdings, LP (EQGP), which owns the general partner interest, all of the incentive distribution rights, and an approximate 17.9% limited partner interest in EQM Midstream Partners, LP (EQM). ETRN holds an approximate 12.7% limited partner interest in EQM, which owns, operates, acquires and develops natural gas gathering, transmission and storage, and water services assets in the Appalachian Basin.
Through its ownership interests in EQGP and EQM, ETRN's assets, located in southwestern Pennsylvania, northern West Virginia, and southeastern Ohio, are uniquely positioned across the Marcellus and Utica Shales. The Equitrans transmission and storage system provides flexibility to producers and marketers, as well as to demand customers through its diverse supply, numerous storage pools, and interconnectivity to other pipeline systems. Along with existing asset connectivity options, additional projects that are backed by firm commitments are currently underway. These projects include the Mountain Valley Pipeline, MVP Southgate, and several pipeline extensions to in-Basin power plants – all of which will increase the strategic nature of ETRN's pipeline infrastructure system by accessing new and growing demand markets.
Read the article online at: https://www.worldpipelines.com/business-news/13112018/equitrans-midstream-launches-as-a-standalone-midstream-company/
You might also like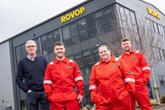 ROVOP focused on producing the 'next generation' of ROV pilots, adds three new trainees to its training programme.