---
The 'Intelligent Pigging & Routine Mechanical Cleaning of Offshore & Onshore Pipelines' conference has been added to Research and Markets' offering.
This intensive three day foundation level course covers pigging of pipelines whether it is for cleaning purposes or for defect identification/assessment is vital to ensure that the integrity and reliability of pipelines is effectively managed throughout the entire life cycle from design through decommissioning.
This course will provide participants with the fundamental and principles of pipeline pigging, conditioning, and processing from the production to process facilities, or from the process facilities to the final distribution and then to the consumption end user.
The participants will learn what the scrubbers are, why the pigging is needed, and how the traditional pigging operations are performed.
Participants will learn how to design and operate the typical pigging equipment and processes through daily exercises.
Course objectives are:
Enable interpretation and assessment of data generated out of Intelligent pigging runs.
Explain mandatory regulatory requirements for intelligent and routine pigging operations including pre- and post pigging operations.
Comprehend the different intelligent pigging technologies to enable selection of most suitable techniques for your specific application.
Explain pipelines integrity management codes requirements and how routine pigging can help maintaining the integrity of the pipeline across its design cycle and beyond.
Highlight how intelligent pigging data can be correlated with other operation, monitoring and inspection date to explain the pipeline behaviour and failure code.
Recognise the different types of mechanical cleaning pigs and how the pig design can influence its effectiveness and ensure smooth operation.
Clarifies organisational interfaces and roles and responsibilities of the relevant technical personnel engaged in the pigging operations including contracts development and execution.
Explain different standards and formulas related to assessment of pipe defects including Fitness for Service.
Provides insight into different repair option to defected lines and explain requirements to EPRS protocols.
Who should attend:
Pipelines maintenance and repair engineers.
Pipelines design, construction and operation engineers.
Corrosion, inspection and integrity engineers.
For more information about this conference, click here.
Read the article online at: https://www.worldpipelines.com/business-news/13102017/intelligent-pigging-conference-announced-dubai/
You might also like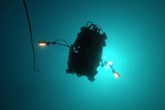 Voyis and Deep Trekker, have joined forces to achieve the successful fusion of Voyis' Discovery Camera with Deep Trekker's REVOLUTION ROV.