---
Trans Mountain Corp. (TMC) has posted to its website the company's financial statements and associated management report for the year ending 31 December 2021. The company's financial results were also included in Canada Development Investment Corp.'s consolidated quarterly financial statements.
Net income for the year increased by CAN$132.5 million to CAN$273.3 million, as compared to CAN$140.8 million in the prior year. The increase is mainly due to the CAN$189.6 million increase in equity allowance for funds used during construction (AFUDC), due to spending on the Trans Mountain Expansion Project (the Expansion Project). Increased equity AFUDC is partially offset by the CAN$44.4 million increase in income tax expense, due to higher pre-tax income, the CAN$7.2 million decrease in adjusted EBITDA, the CAN$4.4 million increase in depreciation and amortisation expense, and the CAN$2.8 million increase in interest expense. The remaining movement in net income relates to changes in foreign exchange gains and losses and other items.
The overall performance of the system was impacted in 4Q21 by heavy rainfall and extreme weather conditions, which led to widespread flooding in British Columbia and Washington state. As a precaution, the pipeline was shut down on 14 November 2021, with operations safely restarting at reduced capacity on 5 December 2021. The mainline remained at reduced capacity until 14 January 2022, when full capacity was restored. The vast majority of costs related to Trans Mountain's flood response activities are anticipated to be recoverable from shippers, insurance or third parties. As a result of the pipeline shutdown, throughput on the system was lower year over year, with daily throughput on the mainline averaging approximately 299 000 bpd, including 35 000 bpd to Westridge Marine Terminal and 189 000 bpd to Washington state on the Puget pipeline.
"Despite the pandemic's impact on crude oil demand and price, and the flooding in BC, available capacity on the Trans Mountain pipeline was fully utilised for all of 2021 and 2020, with system nominations apportioned throughout" said Ian Anderson, President and CEO, TMC. "This reinforces that Trans Mountain is a valuable transportation link to shippers and we continue to provide critical infrastructure in Canada. I would like to thank all of Trans Mountain's employees and contractors for their outstanding work during this challenging time. Their dedication to the safety of our pipeline and their support to local impacted communities has been recognised by so many. I am very proud of all of their efforts."
Following a voluntary line-wide safety stand down that began in December 2020, and completion of re-training of workers and supervisors, construction resumed on all active Expansion Project pipeline spreads, facilities, and reactivation sites midway through 1Q21.
Construction progress was made across all fronts along the pipeline route. As of 31 December 2021, the overall project including upfront costs of permitting, regulatory approval, and advance purchase of materials is approximately 55% complete. Construction is approximately 44% complete, with CAN$10.5 billion in capital spending incurred and CAN$1.2 billion in financial carrying costs capitalised since the inception of the project, with approximately 490 km of the right-of-way stripped and graded, 380 km of pipe length welded and 350 km of pipe length in the ground. Additionally, significant progress was made on facilities along the route, which were approximately 73% complete at year-end. As of 31 December 2021, there were more than 12 000 people working on the project. As of 5 May 2022, construction of the TMEP has progressed to approximately 55% completion.
"We are optimistic and confident about what's ahead in 2022 and 2023 for Trans Mountain and the Expansion Project. We are excited to be delivering on our commitments to communities and to build a modern, environmentally conscious pipeline for tomorrow," added Anderson. "We have 100% of our route confirmed by the Canada Energy Regulator, including our construction methodology through Coldwater. With construction completed in the Greater Edmonton area and work underway in every spread with the recent start of construction in the Fraser Valley region in BC, we are making considerable progress."
On 9 October 2020, Trans Mountain submitted a variance application to the Canada Energy Regulator (CER) for the West Alternative Route through the Coldwater Valley in British Columbia. Trans Mountain completed detailed environment and engineering work for the Western Alternative Route along with engagement with area Indigenous groups. The CER authorised the West Alternative Route in July 2021. The corresponding amendment to the BC Environmental Assessment Certificate was approved on 27 October 2021. Construction has started, with clearing activities commencing in January 2022.
In July 2021, Trans Mountain published its first Environment, Social and Governance (ESG) report sharing the company's results and aspirations through an ESG lens. Trans Mountain will be setting targets to reduce/offset their emissions and their targets will support the government of Canada's ambition to reach net-zero by 2050.
Read the article online at: https://www.worldpipelines.com/business-news/13052022/trans-mountain-corp-releases-2021-financial-results/
You might also like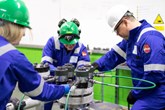 3t EnerMech named regional winner at top engineering awards for the second year in a row.