---
Howden Group, a leading global provider of mission critical air and gas handling products, technologies and services, has released its first Environmental, Social and Governance (ESG) report outlining its related commitments including progress on its intention to be carbon Net Zero by 2035.
In the report, the company also introduced its 2022 ESG targets as it plans to achieve substantive change within the calendar year following the public communication of its ESG commitments. The 2022 commitments include reducing scope 1 and 2 emissions by 11% against baseline; having 70% of operations with less than 10% of waste to landfill; and reducing water usage by 4% globally. Howden's larger environmental impact, however, comes through working with customers to reduce their emissions through the development and supply of air and gas handling solutions, many of which support the energy transition and the decarbonisation efforts of its customers. This includes the supply of products such as regenerative heat exchangers increasing efficiencies and reducing carbon emissions; turbo compressors used in the carbon capture process; and steam turbines which utilizse waste heat to create renewable power.
Howden has also committed to improving its diversity and inclusion profile with real measurable targets, including committing to 40% of its management committee and 35% of its senior leaders being female by 2025. The company has put in place plans to recruit more females into the organisation and build the talent pipeline to achieve this. From this year, 50% of its apprentices and graduates will be female.
The business also launched its Bright Futures programme in 2021, which is a community-based initiative to help disadvantaged and under-represented people in local communities where Howden operates realise their full potential through education and skills development. The goal for 2022 is to run the programme in 80% of Howden's locations with 25% of Howden colleagues giving of their time in volunteering.
Ross B Shuster, CEO of Howden, comments: "The publishing of our inaugural ESG report underscores our commitments to the environment and to society. Through alignment of our ESG commitments with our business strategy, and by reporting on our progress regularly, we are reinforcing Howden's ESG related commitments.
"The Howden team has the opportunity, the ability and the passion to make a positive, meaningful and sustainable contribution to the world we all live in."
Howden is tracking progress on its ESG journey against the SASB and TCFD frameworks and during 2022, will again make a submission to the Carbon Disclosure Project.
Howden manufactures highly engineered fans, compressors, heat exchangers, steam turbines, and other air and gas handling equipment, and provides related aftermarket services and support to customers around the world across highly diversified end-markets.
Read the latest issue of World Pipelines magazine for pipeline news, project stories, industry insight and technical articles.
World Pipelines' April 2022 issue
The April issue includes a keynote article on regulations and compliance, along with technical articles on horizontal directional drilling, integrity systems and pipeline mapping.
Read the article online at: https://www.worldpipelines.com/business-news/13042022/howden-publishes-first-esg-report-with-focus-on-integration-into-business-strategy/
You might also like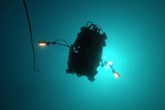 Voyis and Deep Trekker, have joined forces to achieve the successful fusion of Voyis' Discovery Camera with Deep Trekker's REVOLUTION ROV.